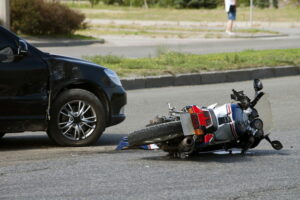 After a motorcycle accident in Grayson, it is vital to take steps to protect your legal rights.
According to 2017 preliminary data from the Governors Highway Safety Association, Georgia reported fewer accidents in 2017 (126) than in 2016 (170). During this period the situation has improved but it is still far from ideal.
At Cain Injury Law, our Georgia injury lawyers fight for the victims of motorcycle collisions and help them seek compensation so they do not have to pay for an injury someone else caused. If you or a family member suffered an injury in a motorcycle accident, contact our office today for a free, no-risk consultation.
Why You Need a Grayson Motorcycle Accident Attorney After a Crash?
After a motorcycle accident, some people believe they can handle an insurance claim on their own. The unfortunate reality is that insurance companies often try to minimize the amount they pay a claimant. Insurers either deny liability or argue that the injuries are not as serious as the victim claims.
Insurance companies also try to take advantage of the victim's need for a fast settlement to cover medical expenses and property damage, which sometimes leads people to accept less than their case is worth.
At Cain Injury Law, we have years of experience negotiating with big insurance companies to protect our clients from being taken advantage of. We understand the tactics these insurers use to undervalue your claim. When necessary, we are prepared to take your case to trial and fight for you in front of a judge and jury.
Why Are Motorcycle Accident Claims More Difficult?
A motorcycle claim is not always as simple as a car accident. First, the injuries involved in motorcycle wrecks are often extremely severe because motorcycles do not offer the same forms of protection as a passenger vehicle. When someone is struck while riding a motorcycle, they are more likely to be thrown from the vehicle and exposed to the road or other vehicles.
These severe injuries make the negotiations with the at-fault parties more complicated because it usually means that the victim or their family is seeking a higher dollar value.
The other reason motorcycle accident claims can be more complex is because motorcyclists have an unfair reputation for being dangerous drivers. At Cain Injury Law, we understand that this is far from the truth. The vast majority of motorcyclists operate their bikes safely and obey all rules of the road. Because of the occasional reckless rider, motorcyclists may be incorrectly seen as more likely to cause or provoke accidents. Insurance companies rely on the anti-motorcyclist bias to pay out less. Our experienced attorneys don't let them get away with unfairly shifting the blame.
How Much Is Your Motorcycle Accident Case Worth?
It can be extremely challenging to put a dollar value on the losses a victim endures after an accident. However, we believe that it is only fair to make a person whole again after they endure severe injuries, and in many cases, lose the ability to enjoy their life activities.
We work with our clients to understand all of the injuries and losses they incurred during the accident to make sure that we fight for every penny they deserve. Damages can typically be broken down into economic and non-economic damages.
Economic Damages
Economic damages include the financial losses a victim incurs as a result of the accident. Some examples of economic damages include:
Medical bills
Property damage
Lost wages
Diminished earning capacity
Incidental expenses, such as transportation to doctors' appointments or household services
Non-Economic Damages
Non-economic damages are costs that are harder to quantify. While no amount of money can make up for everything a person loses after a motorcycle accident, non-economic damages are intended to restore the victim to their position before they were injured. Non-economic damages may include:
Pain and suffering
Loss of enjoyment of life
Emotional distress
Loss of consortium
An experienced motorcycle accident attorney can help you better understand what your motorcycle claim in Grayson may be worth. Call our office to speak with a Grayson personal injury attorney for free.
What to Do After a Motorcycle Accident to Protect Your Rights
The moments after any type of accident are often a blur, especially if you suffered injuries. However, there are a few steps that we recommend accident victims take to ensure their legal rights are protected should they choose to pursue legal action.
Receive medical care. If a victim is injured, they should seek medical attention right away. Not only are health and safety the top priority, but medical records may also serve as important evidence down the road to support an insurance claim or a lawsuit.
Call the police. It is usually a good idea to call the police to the scene of an accident. In fact, drivers in Georgia are legally required to report accidents to the police when they result in injury, death, or more than $500 in property damage. Not only can the police help secure the road to make sure no other vehicles are involved in the accident, but they can also create an official report of the accident, which can also be helpful evidence in a motorcycle claim. The report should detail what happened and who the police believe was at fault. Keep in mind that the police do not have the final say on civil liability.
Keep records. You may be in shock in the immediate aftermath of an accident, but it is important to make a note of what happened. Your memory can begin to fade quickly, so if you can safely do so, write down everything you remember about the accident, including the drivers' positions, the weather conditions, your speed, and any other information you can remember.
Avoid social media. If you are a regular social media user, it may be tempting to post about your accident and injuries. Remember that social media posts can be used as evidence against you. Be careful what you post, and generally avoid it if at all possible. Even a seemingly innocent picture or statement could be taken out of context.
Talk to a lawyer. When you consult with an attorney after your injury, they will provide you guidance as to additional steps you should take to preserve your legal rights, which is why it is typically in your best interest to speak to an attorney as soon as possible after an accident.
How Long Do You Have to File a Motorcycle Accident Lawsuit in Grayson?
In Georgia, the statute of limitations to file a motorcycle accident claim is two years. This means that you have two years from the date of the motorcycle accident to bring your claim, or it will be barred, and you will lose your legal right to file your claim in court.
After the statute of limitations period runs, you will no longer be able to sue the at-fault party for damages. Only narrow and rare exceptions could extend the deadline. An experienced Grayson personal injury attorney can help ensure that your claim is filed on time and you do not lose your opportunity to recover compensation.
Motorcycle Accident FAQs
Our clients typically come to us with a lot of questions. While we strive to provide individualized legal advice to each of our clients, some of the most common questions we receive include:
What If I Am Partly at Fault for My Motorcycle Crash?
Even if you believe you are partly at fault for the motorcycle crash, you may still be able to recover compensation for your injuries. Georgia applies a "modified comparative negligence" law. That means that even if the plaintiff was partly responsible for the accident, they can still seek damages as long as they were less than 50% at fault.
What If the Other Driver Doesn't Have Insurance?
When the other driver does not have insurance coverage, it does limit the victim's options. Because most drivers do not have the money to pay the full amount of the damages out-of-pocket, the victim may not be able to recover as much as they would if the driver were insured. However, depending on the other applicable insurance policies, an attorney may be able to help identify whether there are additional coverages. For example, if your motorcycle insurance policy includes uninsured or underinsured motorist coverage (UM/UIM), you may be able to seek additional compensation from your own insurer.
How Much Does a Motorcycle Accident Lawyer Charge?
Motorcycle accident lawyers, like most personal injury lawyers, typically work on a contingency fee basis. This means that we work for you for free unless we win your case. If we achieve a settlement or verdict in your favor, then we are paid a percentage of that amount. We will set out the percentage in an agreement at the beginning of your representation.
Talk to a Grayson Motorcycle Accident Lawyer Now
Cain Injury Law help people in Grayson and across Georgia. We represent accident victims in a wide array of practice areas, ranging from motorcycle accidents and car accidents to product liability and wrongful death cases.
We aim to simplify the complicated legal process for our clients by providing straightforward legal advice and regular communication. With our years of trial and negotiation experience, you can trust our firm to zealously and diligently represent you after a Grayson motorcycle accident. Call our office or contact us online today to set up your free consultation.