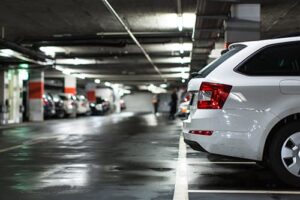 Property owners have a duty to make sure visitors are safe. They must ensure that their property is free from hazards that could injure someone entering the property. Many people automatically think of the hazards of uneven steps or cracked pavement which can cause a slip-and-fall accident. These put the safety of others at risk.
Another type of danger poses just as much risk. This danger is known as negligent security.
In Georgia, landlords and businesses must ensure they have adequate security to keep visitors safe. When they fail to do this, individuals are unnecessarily injured.
Has this happened to you? Speak to a Georgia negligent security lawyer today who can help you claim the compensation you deserve. Call Cain Injury Law today or contact us online. We can arrange a free case review with one of our attorneys and discuss how we can help.
What Is Negligent Security?
Negligent security occurs when a property owner fails to provide adequate safety to keep visitors free from criminal activity such as robbery, rape, assault, or battery. Common examples of negligent security include:
Broken locks – When landlords in apartment buildings or owners of condominium buildings do not repair broken locks, criminals can easily enter units and harm anyone inside.
Poor lighting – Parking lots often have poor lighting. That can permit criminals to carry out assaults and other crimes. Poor lighting in hallways and common areas can allow criminals to commit crimes.
Broken security systems – Security systems are often the best security a building has. When security systems break down and are not repaired, criminals can enter a building and harm residents.
Inadequate training – Businesses and landlords sometimes hire security guards to monitor their property. When those guards are not properly trained or stationed, crime can still occur.
Lack of background checks – Security guards should have spotless criminal histories, as should persons, including maintenance workers, who are allowed to enter a building. When property owners fail to check those records, a criminal may be allowed on the property.
These are just a few examples of negligent security. Speak to a lawyer if you believe some type of negligent security caused you harm.
How to Prove Negligent Security
To prove a negligent security claim, you must establish that the property owner knew, or should have known, that a crime was likely to occur due to the negligent security. Under a theory called "constructive knowledge," you may have to show that the property had been the location of similar crimes in the past.
A lack of proper security measures can be used as evidence in a negligent security case. You can show that the property owner did not use security guards, security cameras, proper locks, adequate parking, or adequate lighting.
Compensation for Injuries After an Attack on Dangerous Property
Two main types of damages are available for negligent security cases in Georgia:
Special damages are losses that have an actual dollar value, including medical expenses, lost income, prescription costs, and other losses that are easily calculated.
General damages are losses that do not have an actual dollar value. These damages include pain and suffering, emotional anguish, and loss of enjoyment of life.
Since special damages do not have a concrete value, speak to an attorney who knows how to evaluate these losses. An attorney can make sure you receive the full amount of compensation you need.
Common Places Where Negligent Security Can Lead to Injuries
Injuries from negligent security can occur on residential or commercial property. Negligent security happens when the property owner fails to take proper measures to keep people safe.
Injuries can occur on many types of properties, for example:
Apartment buildings and complexes
Bars, lounges, and nightclubs
Convenience stores
Movie theaters
Parking garages
Recreational areas, such as parks
Schools
ATMs
College dormitories
Hotels and motels
Office buildings
Parking lots
Retail stores
Shopping malls
Any time someone is injured due to negligent security, they should speak to a lawyer who can help with compensation for any losses.
Georgia Statute of Limitations on Negligent Security Lawsuits
All personal injury claims in Georgia have a statute of limitations, including cases involving negligent security. This is the time limit victims have to file their claims. Like in all other premises liability cases, victims have two years from the date of the injury to file a claim. Victims that file their claim after the statute of limitations has expired will likely be barred from receiving any compensation at all.
Victims should also consider that before they can file a claim, an investigation must be conducted and evidence must be gathered. As such, it is crucial to speak to a lawyer as soon as possible that can get started on the case and ensure it is filed on time.
How a Georgia Negligent Security Attorney Can Help
No one should ever become hurt because another person did not ensure their property was safe. If you have been hurt, speak to a Georgia negligent security attorney at Cain Injury Law today.
Contact us online to arrange a free case review with one of our attorneys. You'll learn more about how we can help.