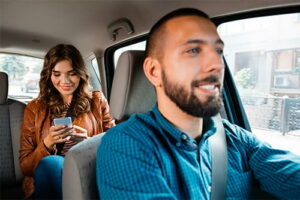 The rideshare companies Uber and Lyft are becoming extremely popular throughout Georgia. Unfortunately, the drivers operating these rideshare vehicles are just as prone to accidents as other drivers.
When a rideshare driver is involved in a crash, accident victims are often unsure what to do. This is understandable, as many vehicles and insurance companies may be involved.
Like other crash victims, Uber and Lyft riders are entitled to compensation when a car accident happens. Those victims should always speak to a Georgia Uber and Lyft accident lawyer. A lawyer can tell accident victims what steps to take after a crash. That can give victims the greatest chance of success with their accident claim. Contact the professional lawyers at Cain Injury Law for help getting compensation.
Who Is Responsible for a Lyft or Uber Accident?
Georgia is a fault state when it comes to auto accidents. If someone other than the Uber or Lyft driver causes a crash, accident victims must go through that person's insurance to claim compensation. When an Uber or Lyft driver causes a crash, determining which insurance company is responsible is not so easy. Three different types of insurance are available. The type that will apply depends on what the rideshare driver was doing at the time of the accident.
When the driver is not logged into the app – Rideshare drivers who are not carrying passengers and not available to pick up passengers must be logged out of the app. When rideshare drivers are not logged in when they cause an accident, any injury victims must go through the rideshare driver's own personal insurance. Like all drivers in Georgia, rideshare drivers are required to carry a minimum amount of auto insurance. Their liability insurance will provide compensation to accident victims.
When the driver is logged in but does not have passengers – Uber and Lyft drivers that are logged into the app but do not have any passengers are still considered to be on duty. Under that scenario, the rideshare company's insurance coverage will provide compensation for an accident victim's injuries. Uber and Lyft both provide $50,000 per person for bodily injury and $100,000 per accident for bodily injury.
When the driver is carrying a passenger – When rideshare drivers are carrying a passenger, Uber and Lyft also provide compensation for any accident injuries. In this case, both companies provide up to $1 million for accident victims.
These guidelines may sound fairly simple, but they are not. Rideshare companies may state that drivers were not logged into their app when the crash occurred, even though they were. Injured individuals should be wary of excuses. Always speak to an attorney for help with any claim against a rideshare company.
Compensation After an Uber or Lyft Accident
Accident victims who have been hurt in an Uber or Lyft accident can claim compensation in two ways: 1) from the driver's personal insurance company; 2) from the rideshare company. Different types of damages, or compensation, may be available to accident victims. Damages include:
Current and future medical bills
Lost income
Loss of earning capacity
Pain and suffering
Emotional distress
Prescription costs
Disfigurement
Rehabilitative treatment
Any losses or damages that are caused by the accident can be included in an accident claim.
How a Georgia Uber and Lyft Accident Attorney Can Help
An Uber and Lyft accident attorney can help you after a crash. Here's what they can do:
Conduct an investigation – An attorney will investigate the accident scene, talk to eyewitnesses, and investigate other aspects of the accident. The goal is to determine how the crash happened. During this investigation, an attorney will also collect evidence to substantiate your claim.
File the claim – Many deadlines and other rules are associated with personal injury claims. An attorney will follow these rules and deadlines to ensure a claim is filed properly. That will give accident victims the best chance of success.
Gather medical evidence – Accident victims must prove who was at fault for the crash. They must also document all their injuries. While you recover, an attorney can collect medical bills, records and other documents that show the extent of your injuries.
Deal with the insurance company – After a crash, insurance companies will attempt to gather statements or medical records to reduce or deny your claim. However, they know that attorneys are aware of these strategies. They are less likely to try any tricks when an attorney is at your side.
Represent you during the trial, if necessary – Most car accident claims are settled out of court. They go to trial only when a fair settlement cannot be reached. An attorney will represent you during the negotiation process and give you the best chance of securing a favorable result. An attorney will take your case to trial when necessary.
These are just a few of the ways an attorney will help with your claim after a crash. They will walk you through every step of the claims process and work tirelessly on your behalf.
What Should I Do If I Am in a Lyft or Uber Accident?
The moments after any car accident are confusing. Accident victims can be even more confused when a Lyft or Uber car is involved. Take these important steps after a crash:
Seek medical attention – Your most important priority after any accident is your health. If your injuries are severe, call 911. If your injuries are not urgent, seek medical attention after you leave the scene. The medical report can be used in any future claim you file.
Report the accident – Under Georgia law, car accidents that result in injury, or $500 or more in property damage, must be reported to the police. Only the drivers involved are responsible for reporting the crash. However, passengers hurt in an Uber or Lyft ride should ensure a police report is written. This information is important in any future accident claim.
Take pictures – Take pictures of all vehicles involved, your injuries, and anything else that is relevant to the accident.
Gather information about the driver – Write down the driver's name and contact information. Also document the insurance information, the driver's license number, and license plate number.
Contact a lawyer – The process of filing a claim against an at-fault driver or with Uber and Lyft can be difficult. An attorney can determine who is at fault for the crash and hold that party accountable for the compensation you deserve.
What Are the Responsibilities of Rideshare Companies Like Uber or Lyft?
Uber and Lyft have lax hiring practices compared to traditional taxi companies. These practices largely consist of checking the driver's history for offenses such as drunk driving. Neither Uber nor Lyft meets with their drivers before hiring them.
Due to these shoddy hiring processes, it may be possible to hold Uber or Lyft liable if one of their drivers is impaired, reckless, or acting in violation of motor vehicle laws.
What Are the Requirements to be a Driver for Uber or Lyft?
Uber and Lyft have several hiring requirements. Drivers must:
Be at least 21 years old.
Be licensed in the United States for at least one year (three years for Uber) when they are under the age of 23.
Have proper auto insurance for the state they will be driving in.
Have a Social Security number.
Have a valid driver's license issued in the United States.
Agree to a background check.
In addition to these requirements, the vehicle the driver will be operating also has certain requirements. For example, vehicles used for Uber and Lyft must seat at least four passengers and must have four doors.
Talk to a Lyft and Uber Accident Lawyer in Georgia Now
All car accidents can cause frustration and confusion. When crashes involve Uber and Lyft drivers, even more confusion may exist. If you have been hurt in an accident, call the Georgia Lyft and Uber accident lawyers at Cain Injury Law today. We will determine which driver was at fault for your crash, collect evidence to prove your claim, and work to secure the compensation you deserve.
Call today or contact us online to schedule a free case review with one of our attorneys.