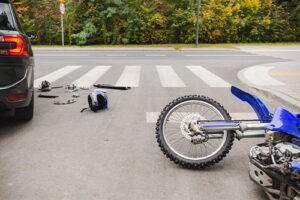 Riding a motorcycle is a hobby for many people and a way of life for many others. Any rider will tell you of the joys of riding a motorcycle. But those riders will readily admit that motorcycling also comes with risks.
Each year, more than 5,000 people are killed, and thousands more injured, in motorcycle accidents in the United States. This is why many states, including Georgia, have special laws to help protect motorcycle drivers and passengers.
However, no matter how many precautions are taken, motorcyclists are vulnerable to reckless drivers and hazardous conditions on the road. Tragically, motorcyclists are killed in traffic accidents over 25 times more frequently than occupants of passenger cars. Motorcycles do not have many of the safety features that are now included in most cars.
If you or a loved one were injured in a motorcycle accident and someone else was at fault, Cain Injury Law can help. We will fight for your rights and the compensation you are owed. With Cain Injury Law, you don't have to go through this alone.
At Cain Injury Law, our compassionate and experienced motorcycle accident attorneys can handle all the details of your case. We can negotiate with insurance companies on your behalf and gather all the evidence needed to support your case. We will fight for you in court, if necessary. Please see our results from past cases and our client testimonials. You'll see that we have the resources, skills, and experience to get the results that matter.
If someone else's reckless actions left you injured, contact the Georgia motorcycle accident lawyers at Cain Injury Law today. We're here to help you get the justice and compensation you deserve. For your free consultation, contact us today by phone or reach us online.
Georgia Motorcycle Helmet Law
Georgia has a "universal" motorcycle helmet law. Under that law, anyone on a motorcycle – no matter whether a driver or passenger – must wear a helmet that meets the standards of the Georgia Department of Public Safety.
Approved helmets have a label that shows they are U.S. Department of Transportation (DOT) certified. The law also requires motorcyclists to either have a windshield on their vehicle or wear a proper eye-protective device.
Georgia Motorcycle License Laws
In Georgia, any person operating any type of motorcycle must have a Class M license or a Class M Instructional Permit (MP). The motorcycle law covers vehicles with engines of 51cc or larger, such as scooters, mini-bikes, and motorbikes.
To qualify for a Class M license, the applicant must:
Be at least 17 years old.
Complete a motorcycle safety program course or pass a knowledge exam and road skills test.
Pass a vision exam.
Show proof of identity, full Social Security number, Georgia residency, and U.S. citizenship or lawful status.
If the applicant is under 18, provide a signature from a parent/guardian/responsible adult and proof of high school enrollment, diploma, or GED.
A potential rider can also apply for a Class MP license. That allows younger riders to qualify, but it also imposes several restrictions. Class MP license holders can only operate during daylight hours, must wear safety equipment, cannot carry passengers, and cannot drive on limited access roadways. To qualify for a Class MP license, the applicant must:
Be at least 16 years old.
Complete a certified Georgia driver training/education course (if the applicant is under 17).
Complete a certified Georgia "Behind the Wheel" program (if the applicant is under 17) or substitute training with the Parent/Teen Driving Guide (if the applicant is under 18) and also provide a session checklist, signed driving log, and parent/teen driving agreement.
Pass vision and motorcycle knowledge exams.
Show proof of identity, full Social Security number, Georgia residency, and U.S. citizenship or lawful status.
Provide a signature from a parent/guardian/responsible adult and proof of high school enrollment, diploma, or GED (if the applicant is under 18).
Show an Alcohol and Drug Awareness Program (ADAP) or Electronic Alcohol and Drug Awareness Program (eADAP) completion certificate (if the applicant is under 18).
What You Need to Know About the Georgia Motorcycle License Course
Georgia offers several motorcycle courses. The courses vary, depending on the person's age and the type of license they are seeking.
The first course is the Georgia Motorcycle Safety Program (GMSP). The course is offered at two different skill levels for Class M license applicants: GMSP Basic Rider Course and the GMSP Basic Rider Course 2. Both courses help students learn or improve basic skills, such as braking, turning, and traffic strategies. When participating at either level, students must wear protective clothing, such as boots, gloves, long pants, and a long-sleeved shirt.
The Basic Rider Course is a two-day class of classroom and on-motorcycle instruction for new and experienced riders. The course facility provides students with a motorcycle, face shield, and a helmet for use during the course. The Basic Rider Course 2 is a one-day course for experienced motorcyclists who use their own bikes.
Passing either course earns students a waiver. The waiver gives riders 90 days to apply for a license at a Department of Driver Services office without having to take a knowledge test and an on-cycle driving test. Note: if a rider passes a GMSP course, he or she must be at least 17 years old before the end of the 90-day period in order to get a license.
Applicants for a Class MP license must complete 30 hours of classroom training through a certified Georgia driver education course. Those applicants must also complete 40 hours of hands-on "behind the wheel" training, either by a certified driving instructor or under the supervision of a parent using the DDS Parent/Teen Driving Guide.
Georgia Motorcycle Parking Laws
Motorcycles must generally follow the same parking rules as larger vehicles unless special rules for motorcycles are posted. As is true for other vehicles, motorcycles are not allowed to park:
In a bike lane
On a crosswalk
In an intersection
Within 15 feet of a fire hydrant
In handicapped spots, unless the rider has an official disability parking permit
On a sidewalk
In a "no parking" zone
In the area between divided highways
On a bridge or in a tunnel
In the street, beside a parked car
Within 30 feet of a stop sign or other traffic signal
In the striped areas of parking lots
When parking at the roadside, motorcycles should park on the road and parallel to the curb – not on the sidewalk or perpendicular to the curb.
Georgia Motorcycle Safety Tips
Motorcyclists can take these steps to increase their safety on the road:
Choose the right motorcycle. When first selecting a motorcycle, choose one that fits you properly. Also, choose a bike that complies with Georgia's laws and standards. Riders should be able to comfortably touch the ground and reach the handles while seated.
Inspect your bike. Once you've found your bike, have it professionally inspected. This helps keep you safe and helps prolong the life of your vehicle. Before every ride, check to make sure the bike is in good working order. Check the brakes, lights, mirrors, turn signals, and all other essentials. Confirm that each is functioning properly before getting on the road.
Maintain your health. Motorcycles can only function properly if riders are able to maintain control and balance. Avoid driving a motorcycle if you have had any alcohol to drink, or if you're experiencing anything that might hurt your ability to drive responsibly.
Wear protective equipment. While helmets are required by Georgia law for everyone on a motorcycle, additional items can be worn that protect riders.
For example, riders can wear items to protect themselves against common motorcycle hazards such as bad weather, road rash, and debris.  Those items include durable pants, boots, and a jacket or long-sleeved shirt. Riders can improve their grip and protect their hands by wearing riding gloves. Motorcyclists can also make themselves more visible by wearing reflective material or brightly colored clothing.
Is Lane-Splitting Legal in Georgia?
Some places like California allow "lane-splitting. In lane-splitting, a motorcyclist passes other vehicles by driving on the dotted line between two lanes in the same direction. However, this practice is illegal in Georgia.
Motorcyclists who are caught lane-splitting face hefty fines. If riders cause an accident while lane-splitting, they may be liable for any injuries or property damage that results from the crash.
Lane-splitting is different than lane sharing – a practice that is legal in Georgia. Lane sharing involves two motorcycles riding alongside each other in a single lane. Some people argue that lane sharing helps protect motorcycles by increasing their visibility to other vehicles.
However, Georgia's Motorcycle Operation Manual discourages the practice, saying that lane sharing actually exposes motorcycles to greater risk. The manual notes that lane sharing makes it more difficult for motorcyclists to maneuver quickly to avoid obstacles or other vehicles.
Georgia Motorcycle Insurance Requirements
Motorcyclists in Georgia must carry a liability insurance policy that covers, at a minimum:
$25,000 for bodily injury per person and $50,000 for bodily injury per accident.
$25,000 property damage per accident.
This insurance helps cover any damage caused to another person or vehicle when riders are responsible for a crash. However, basic liability policies don't cover the rider's own injuries and property damage.
The other party's insurance will cover the rider's damages if the other party is completely responsible for the crash. However, liability can be split between multiple parties. If the rider only carries basic liability coverage and is partially at fault for an accident, the rider might have to pay for part of the damages.
Other types of insurance that motorcyclists often purchase to help protect themselves include:
Medical payments coverage to help pay for the rider's own injuries.
Collision coverage to help with repairs to the rider's own bike, as well as the cost of the helmet or any riding gear if it is damaged in the accident.
Uninsured/underinsured motorist coverage, which kicks in if the motorcyclist is hurt in a hit-and-run accident or if the at-fault driver doesn't have enough insurance to cover the total cost of the rider's damages.
Comprehensive coverage to help pay for non-accident damages to the insured person's motorcycle, such as if someone steals their bike.
Hurt in a Crash? Talk to a Georgia Motorcycle Accident Lawyer Now
If you've been hurt in a motorcycle crash, contact Cain Injury Law today. Our skilled motorcycle accident attorneys have experience fighting for the highest compensation that clients are owed. We've helped victims across Lawrenceville and surrounding areas recover millions of dollars for injuries caused by other people's negligence.
At Cain Injury Law, we understand the tactics that insurers often use to reduce the amount of money that they pay to motorcycle wreck victims. We'll use our experience to help protect you from lowball settlement offers. Our goal is to help you get the compensation you deserve.
To get started today on the road to recovery, call Cain Injury Law, or contact us online to schedule your free and confidential consultation.