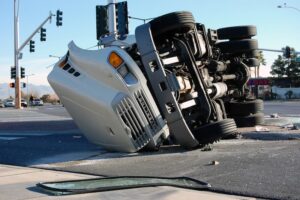 Truck driver and trucking company negligence are common contributing factors in many Georgia truck accidents, often leaving accident victims with severe injuries and substantial losses.
If you were injured in a Georgia truck accident, the personal injury attorneys of Cain Injury Law want to help you seek fair compensation for your losses. Our dedicated legal team has the resources and skills needed to meticulously investigate the truck accident and build a solid claim for recovery on your behalf. Throughout your case, we'll stand by your side and keep your best interests at heart.
Contact us today to speak with a member of our trusted team in a free initial consultation.
Most Common Causes of Truck Accidents in Georgia
Many Georgia truck accidents are the result of various forms of negligence, including:
Driver fatigue – Many truck drivers work long hours and odd schedules, significantly increasing the likelihood of chronic fatigue. A drowsy driver behind the wheel of a massive semi-truck can easily cause devastating accidents.
Impaired driving – The effects of alcohol or intoxicating drugs can severely impair safe-driving abilities. Truck drivers under the influence often experience decreased coordination, poor reaction time, and clouded judgment.
Distracted driving – When truck drivers are focused on phone messages, GPS devices, or other distractions, they may neglect their blind spots or overlook important changes in traffic flow, leading to serious collisions.
Excessive speed – Speeding is illegal and dangerous. Truckers who break the speed limit or drive too fast for conditions can pose a major threat. Drivers who fail to adjust their speed on dark, wet, icy, foggy, or otherwise dangerous roads can cause tragic high-speed wrecks.
Following too closely – Large trucks take much longer to stop than a typical passenger car. Truck drivers who follow too closely may cause serious rear-end collisions.
Poor driver training – The trucking industry has suffered a severe shortage of qualified commercial drivers for years. As a result, many of today's truck drivers are new, poorly trained, and more likely to cause accidents due to inexperience.
Poor maintenance – Commercial trucks require routine maintenance to keep up with constant wear and tear. When drivers or owners fail to maintain their equipment properly, worn components can fail and lead to loss-of-control accidents.
Overloaded trucks – When a large truck is overloaded, the excess weight can put unnecessary stress on the wheels, brakes, and steering system. The weight can also affect the vehicle's stability. Overloaded trucks are more likely to veer out of control or spill cargo and cause catastrophic wrecks.
Faulty brakes – Proper brakes in good working condition are essential safety components. When trucks have faulty brakes that fail in transit, truck drivers can lose control when they need to slow or stop and rear-end any vehicles ahead.
Defective roadways – When public roads have poor drainage, missing signage, gaping potholes, or other hazards, even the safest truck drivers can lose control of their rig or miss important traffic information and crash.
Federal Hours of Service Regulations
To discourage drowsy driving and reduce the number of fatigued truck driver accidents, the Federal Motor Carrier Safety Administration (FMCSA) imposes several hours of service (HOS) regulations on the trucking industry, including:
An 11-hour drive time limit – Drivers are permitted to drive a maximum of 11 hours per day after 10 consecutive hours of off-duty time.
A 14-hour on-duty time limit – Drivers are prohibited from driving after being on duty for 14 consecutive hours. Additional off-duty time may not be used to extend the 14-hour limit.
The 30-minute driving break requirement – Drivers are required to take a 30-minute break from the road after driving eight consecutive hours without at least 30 minutes of uninterrupted rest time.
The 60/70-hour per week limit – Drivers are prohibited from driving after 60 hours of on-duty time over seven consecutive days or 70 hours over eight straight days. A driver can reset a seven- or eight-day consecutive period by taking at least 34 consecutive hours of off-duty time.
Commercial motor vehicle operators are required to comply with HOS rules at all times, but depending on the situation, the following exceptions may apply:
The sleeper berth provision – Drivers are permitted to break up the required 10 hours of off-duty time as long as they spend at least seven consecutive hours in their sleeper berths and one other off-duty period is at least two hours long.
The adverse driving conditions exception – Drivers are permitted to extend their 11-hour drive time limit and 14-hour on-duty limit by as much as two hours if adverse driving conditions would make it unsafe to stop sooner.
The short-haul exception – Drivers who operate within a 150-mile radius are exempt from most HOS regulations, though the 14-hour on-duty time limit still applies.
Holding Drivers and Others Accountable for Truck Crashes
In many truck accident cases, the driver is primarily responsible for the crash. However, since many different parties are involved in the operation of a commercial truck, others could be at fault, too. In many cases, multiple parties may be liable.
For example, the trucking company that hired the driver may be at fault if it knowingly hired an unqualified driver or encouraged the driver to violate HOS regulations. If the driver is an employee and not an independent contractor – regardless of their label – then the trucking company would be vicariously liable for the trucker's negligence.
The team that loaded cargo into the truck could bear some responsibility if it added too much weight to the trailer or failed to secure it properly. A repair provider or manufacturer could be at fault if a defective truck component contributed to the wreck.
When police officers, insurance adjusters, and attorneys investigate truck accidents, they can use the following types of evidence to determine which parties may have been at fault:
Information from police accident reports, such as toxicology test results
Video footage from traffic cameras or dash cams
Photos from the scene of the truck accident
Data from truck "black box" data recorders
Records from drivers' electronic logging devices (ELD)
Truck driver cell phone or GPS records
Statements from eyewitnesses
Testimony from expert witnesses, such as accident reconstruction specialists
Georgia Truck Accident Statistics
According to statistics published by the FMCSA:
174 fatal truck crashes and 187 fatalities occurred in Georgia during one recent year.
34 fatal Georgia truck crashes were single-vehicle accidents, and the remaining 140 were multiple-vehicle collisions.
There were 16.54 fatal truck accidents in Georgia for every 1 million state residents.
How Cain Injury Law Can Help and the Cost of Hiring Our Lawyers
After a Georgia truck accident, you need a compassionate attorney who will leave no stone unturned to help you recover.
At Cain Injury Law, we handle cases on a contingency basis, which means we don't get paid until you do. We charge no up-front or out-of-pocket fees to start work on your case. You can rest assured we will do everything we can to secure fair compensation for your truck accident injuries.
Contact us today to get started with your free initial case review.