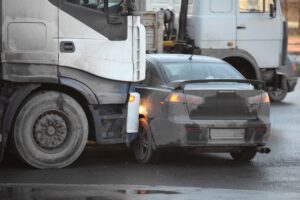 Large commercial trucks like tractor-trailers can weigh up to 80,000 pounds fully loaded. Compare that to the average passenger vehicle that weighs around 3,000 pounds, and you don't need to be a physics expert to know that the tractor-trailer will come out on top if the two collide.
If you have been involved in a wreck due to negligence on the part of a truck driver, trucking company, or another entity, contact an experienced Georgia truck accident attorney immediately. At Cain Injury Law, our skilled trial lawyers are ready to review your case for free and give you the advice you need after a severe injury accident.
You shouldn't have to pay out of pocket for a crash you didn't cause. Contact us for help today.
Types of Injuries in a Truck Accident in Georgia
Tractor-trailer accidents are some of the most catastrophic types of motor vehicle collisions that occur on Georgia highways. In addition to their sheer size and weight, these vehicles may also be transporting heavy or dangerous cargo. Trucks carrying chemicals or heavy machinery can make the damage from a collision even worse.
Some of the most common injuries that frequently result from large truck collisions include:
Traumatic brain injuries
Paralysis
Spinal cord injuries
Amputation
Concussions
Whiplash
Broken bones
Traumatic orthopedic injuries
Organ damage and internal bleeding
Burns
Chemical burns
Disfigurement
Injuries of this nature can be life-altering in more ways than one. A victim may end up with severe pain, disfigurement, and disabling conditions that could impact them for months, years, or the rest of their life. They could also be saddled with overwhelming medical bills, lost wages, and other economic losses that are often financially ruinous.
If a truck accident has left you with severe injuries and significant financial losses, talk to a Georgia truck accident attorney from Cain Injury Law. We are ready to discuss your legal options and help you seek the money you deserve for your injuries and related losses.
Why Truck Accident Injuries Are Often More Severe
Consider for a moment this disturbing statistic. The National Highway Traffic Safety Administration finds that 72 percent of the people who died in collisions with trucks were the drivers of the other vehicles. Passenger vehicles are smaller and lighter than tractor-trailers and other large commercial trucks. When a heavy truck smashes into a lighter vehicle that sits lower to the ground, the occupants of that vehicle will absorb most of the energy from the impact. That means significant and even traumatic injuries, even in cars with safety features like airbags.
Large trucks are considered the workhorses of the transportation industry. They carry goods and materials across the nation daily. Not all of the materials these workhorses transport are safe. Trucks must often haul chemicals, hazardous materials, flammable materials, and other dangerous types of cargo. When a truck carrying hazardous materials is involved in a crash, victims may suffer physical and chemical burns, as well as other significant injuries.
Truckers often must operate under the constraints of strict deadlines. While the Federal Motor Carrier Safety Administration limits the amount of time a truck driver can continuously operate a vehicle, negligent or pressured drivers may ignore regulations to get their cargo delivered on time.
Driving while drowsy or fatigued is negligent behavior and is very risky. The National Safety Council estimates that sleepy drivers are at least three times more likely to be involved in a collision. These crashes can be particularly harmful because a drowsy driver may fail to brake, swerve, or take other evasive actions before impact.
Types of Compensation for Georgia Truck Accident Injuries
Drivers involved in accidents with negligent truck drivers may be able to recover significant compensation for their injuries. In general, a driver may be able to seek both economic and non-economic damages. Economic damages compensate a victim for their measurable losses. Non-economic damages are meant to compensate a victim for things like emotional distress or quality of life changes.
Typically, a victim could be able to seek money for:
Current medical expenses
Future medical expenses related to the accident
Loss of income
Loss of earning capacity
Pain and suffering
Property damage
The total value of a victim's compensation will depend on the severity of their injuries and the nature of the accident itself. An experienced Georgia truck accident attorney can calculate the full extent of your losses and seek full and fair compensation for the harm you've suffered.
How Our Lawyers Can Help If You've Been Hurt in a Truck Wreck
Large truck accidents are very different from regular passenger vehicle collisions when it comes to seeking compensation. Trucking companies not only have insurance representatives working on their behalf, but they also might have legal counsel ready to fight back against injury claims. These lawyers have been hired to protect the trucking company and its profits. That is why you need your own attorney, protecting your rights and fighting to get you the money you deserve.
An experienced Georgia truck accident lawyer can make a significant impact when it comes to helping you seek compensation after an accident. An attorney can:
Investigate the circumstances of the accident.
Request critical evidence such as safety inspections, driving records, and dashcam video.
Calculate the total value of your damages.
Establish liability for the accident.
Help you file your claim.
Negotiate with insurers on your behalf.
Prepare a court case if necessary.
These are just a few examples of the ways that a skilled truck accident lawyer can help you.
Talk to a Georgia Truck Accident Injury Lawyer Today
When you are injured in a devastating truck accident, you need the experience and advice that a skilled Georgia truck accident attorney can provide. At Cain Injury Law, our team understands the severe and catastrophic injuries victims often suffer in collisions with 18-wheelers. We know what is at stake, and we'll fight aggressively to help you pursue the compensation you need to pay your bills, recoup lost wages, and move on with your life.
Take the first step and contact Cain Injury Law for a free consultation today.