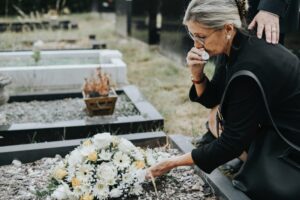 Losing a loved one is one of the most painful events that a family ever has to go through. Feelings of anger and helplessness may compound your family's pain and sorrow if you discover someone else's wrongful acts caused your loved one's death. If you have lost someone due to another party's negligence in Grayson, a skilled attorney can help you hold them accountable through a wrongful death action.
Cain Injury Law focus on standing up for the rights of accident victims and their families in Grayson and surrounding communities in Georgia. Your family needs an attorney you can feel comfortable with during this difficult time.
We will take the time to get to know you and your family and understand your needs and concerns so we can begin pursuing the results you want. We operate with an open-door policy so that you can stop by our office any time to get answers to questions or updates on your case. We strive to treat each of our clients as a member of our family. While we offer a small firm touch, we also have the skill and resources to fully pursue your case through settlement negotiations and at trial if necessary.
Contact us today for a free initial consultation to speak with a Grayson wrongful death attorney from our firm to learn more about how we can help provide your family with justice and closure following your loved one's wrongful death.
Wrongful Death Attorney in Grayson Can Help after an Accident
If your family has lost a loved one due to someone else's carelessness, our wrongful death lawyer in Grayson could help your family pursue justice and compensation for your loss by:
Conducting an independent investigation into the circumstances of your loved one's death to recover evidence that can be used to prove how they died and to identify the parties that can be held legally responsible
Going over your and your family's legal rights and options for pursuing a wrongful death suit against those at fault for your loved one's death and explaining what to expect at each step
Collecting evidence to support your family's claimed losses
Filing claims against the at-fault party and relevant insurance companies
Handling all communications with insurance adjusters and defense lawyers on your family's behalf so you have the space to grieve and heal from your loss
Taking your case to court if necessary to continue pursuing your family's rights and options, advocating on your behalf to the judge and jury
What Is a Wrongful Death Lawsuit?
A wrongful death lawsuit refers to a legal claim brought by and on behalf of surviving family members of a person whose death is caused by negligence, recklessness, or other wrongful acts of another party, or due to the defective condition of a product or property.
A wrongful death lawsuit can be thought of as the legal claim the deceased individual could have brought had they survived their last injury or illness. A claim allows the decedent's estate and family to recover compensation for losses that the decedent and their estate have incurred, as well as losses that surviving family members have experienced due to their loved one's passing.
Who Can File a Wrongful Death Lawsuit in Georgia?
Georgia law limits the categories of individuals who are entitled to file a wrongful death lawsuit. In order, the persons who may pursue a wrongful death claim include:
The decedent's surviving spouse
If no surviving spouse, the decedent's surviving children
If no surviving spouse or children, the decedent's surviving parents
If no surviving spouse, children, or parents, the administrator or executor of the decedent's estate
No other family members are permitted under Georgia law to pursue a wrongful death claim, even if they were financially dependent on the decedent at the time of death. If an administrator or executor of the decedent's estate brings a wrongful death claim, any recovered compensation is held by the decedent's estate for the benefit of the decedent's next-of-kin under Georgia law.
Compensation in a Grayson Wrongful Death Claim
Although money cannot bring your loved one back, obtaining compensation through a wrongful death claim can help with the financial consequences of your loved one's passing and can give your family some small measure of justice.
In a wrongful death claim in Grayson, compensation claimants may recover falls into one of two categories.
The first category of compensation is intended to compensate surviving family members or next of kin for their loss arising from their loved one's passing, including for:
The loss of the decedent's expected financial contributions (including health insurance or other benefits) to the family
The value of the decedent's services to the household
The loss of the decedent's care, companionship, guidance, and society
The second category of compensation covers losses that the decedent incurred before their death and losses incurred by the decedent's estate, such as:
Loss of income between the wrongful act and the decedent's death
Medical expenses incurred to treat the decedent's last injury or illness
Funeral and burial expenses
Other necessary expenses incurred due to the decedent's last injury/illness or death
Common Causes of Wrongful Death Accidents
Examples of accidents or incidents that can give rise to wrongful death claims include:
Car accidents
Uber and Lyft accidents
Truck accidents
Motorcycle accidents
Bicycle accidents
Pedestrian accidents
Slip and fall accidents
Premises liability accidents
Dog and other animal attacks
Defective product accidents
Medical malpractice
Workplace accidents
Nursing home abuse or neglect
Assaults
Contact Our Experienced Grayson Wrongful Death Attorney Today
If someone else's negligent actions took your loved one's life, turn to Cain Injury Law for help. We will provide you with a free, no-obligation consultation with a knowledgeable Grayson wrongful death lawyer to discuss your rights and legal options.
Contact us online or by phone now to discuss your family's options.