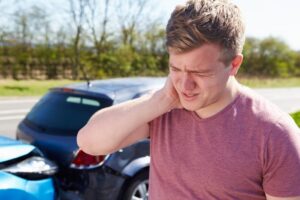 A whiplash injury can cause long-term pain and a serious restriction of movement, making it difficult to do many of the activities you enjoyed before the injury. While whiplash can occur in an accident where the head is jerked forcefully back and forth, these injuries are commonly sustained in rear-end or front-end car accidents. Even a minor impact can lead to a debilitating whiplash injury.
If you suffered a whiplash injury in an accident due to someone's negligence or recklessness, the Lawrenceville whiplash lawyers at Cain Injury Law are here to help. We take the time to get to know our clients and their challenges so we can build a legal strategy tailored to their needs.
When you hire us to represent you, we'll seek fair compensation for your losses. Along the way, we'll support your recovery however we can, whether it's connecting you with the right medical professionals or securing a rental car for you.
Our Georgia personal injury lawyers are ready to review your case for free and help you understand your legal options for financial recovery. Call us or contact us online today.
What Is a Whiplash Injury and What Causes Whiplash?
A whiplash injury happens when someone's head and neck whip violently back and forth, potentially causing damage to the cervical spine, neck muscles, cervical ligaments, and tendons, and sometimes even causing cervical disc damage.
The force of impact from a front-end or rear-end collision is a frequent cause of whiplash injuries. Some whiplash injuries are less severe, causing temporary pain and stiffness in the neck. Some victims can be struck with such force that the whiplash injury is significant, causing severe pain and disability for months or even years. Some cases require surgical intervention.
Common Symptoms of a Whiplash Injury?
Victims of whiplash could experience a range of symptoms. A few examples of some of the most common symptoms include:
Headaches or migraines
Neck pain
Dizziness and vertigo
Stiffness in the neck, shoulders, and back
Loss of consciousness
Nausea
Tinnitus or ringing in the ears
Blurred vision
Shooting pain down one arm or both arms
Numbness in fingers 
Bulging or herniated cervical disc
What Is the Average Settlement for a Whiplash Injury?
Every whiplash injury case is different. The amount of compensation you may be able to recover will depend on several factors, such as the severity of your injury, your ability to work, the circumstances of the accident that injured you, and the amount of insurance coverage available in your case.
Injured people can typically pursue two main types of compensation in a whiplash injury claim: economic compensation and non-economic compensation.
Economic compensation covers the monetary losses that an injury victim suffers in an accident, such as the cost of medical expenses and the wages lost during recovery. Economic compensation may cover:
Present and future medical expenses – In an injury claim or lawsuit, you could pursue compensation for the cost of your doctor visits, prescriptions, diagnostic tests, and more. Future medical expenses are more challenging to calculate. Medical and financial experts can help determine the scope and cost of future care that may be needed, such as therapy and medications.
Lost wages – compensation may cover the wages you missed while recovering from your injury.
Lost earning capacity – This refers to the losses you suffer when you're unable to return to work due to a long-term injury or disability.
Property damage – You may be owed compensation to cover the costs of repairing or replacing your property damaged in the accident, such as your wrecked vehicle.
Non-economic compensation covers subjective losses, which are more challenging to calculate. An experienced attorney can help you determine the total value of your non-economic compensation, which may cover:
Pain and suffering – This is compensation for the physical and mental pain and suffering you have had to endure due to your injury and treatment.
Loss of quality of life – This is intended to cover the losses you may experience as a result of being unable to perform the tasks and activities that previously brought you joy, such as hobbies, sports, and vacations.
The best way to know that you are receiving a fair settlement offer for your losses is to hire a lawyer with the knowledge and experience in handling these cases.
Time Limit for Filing a Whiplash Injury Claim in Lawrenceville
Georgia has a two-year statute of limitations on personal injury lawsuits, including whiplash injuries suffered in an accident. This means that if a lawsuit is not filed within two years of the date of the accident, the courts will almost certainly bar the victim from seeking financial compensation. It's crucial to seek legal help as soon as possible following your injury to ensure you don't miss your opportunity to hold the at-fault party accountable.
Steps to Take After a Whiplash Injury
If you suffered a whiplash injury caused by someone else's negligent act, you can take steps to protect both your future health and your right to compensation, such as:
Seeking immediate medical care – Obtaining medical treatment as soon as possible gives you the best chance of seeing a full recovery. It will also generate medical records that will be important to your injury claim.
Following your treatment plan – Be sure to follow your doctor's orders and attend every medical appointment to show that you're doing everything you can to recover.
Gather documentation and information – Collect medical bills, medical records, pay stubs, vehicle repair estimates, accident photos and videos, the police accident report, and other information that could be used to support your case.
Keep a record of your recovery – Track the pain, emotional distress, and challenges you face as you recover to help show the extent of your non-economic losses.
Avoid social media – Refrain from posting any updates about your case or injuries on social media since the other side could potentially use that information to undermine your case.
Contact an Experienced Lawrenceville Whiplash Injury Attorney
If you are struggling with medical bills, missed wages, and other losses due to a whiplash injury, don't wait to talk to a Lawrenceville personal injury lawyer at Cain Injury Law about your options.
We're here to answer all your questions and help you chart a path forward. We dedicate our law practice to fighting for injured victims' rights. We're ready to leverage our team's knowledge and resources to pursue the positive outcome you need.
We offer free initial consultations, and we won't charge you anything until we secure compensation for you. Call us or contact us online today.