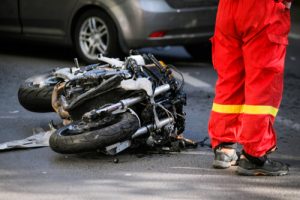 Motorcyclists love Lawrenceville, and with the city's mild climate and striking scenery, it is understandable why. However, not all motorcycle rides end well. Other drivers do not always watch for or "see" motorcyclists.
Car-motorcycle accidents happen too often, and it is usually the motorcyclist who is seriously hurt.
If you are an injured motorcyclist, you may have the right to file for compensation.  Let a Lawrenceville motorcycle accident lawyer take care of all the details while you focus on your recovery.
Do not go through the claims process on your own. Get help. Call Cain Injury Law. Our Lawrenceville motorcycle accident lawyer can help you seek the compensation you deserve.
Why Motorcycle Accident Cases Are More Complicated
Many bikers think that when they are in a crash, it will be handled just like a car accident. Unfortunately, that is not the case. Motorcycle crashes evoke emotional responses that are not present in auto accident claims. These include:
Bias – Many people hold the opinion that motorcyclists are reckless and dangerous. This is simply not true. In fact, cyclists are some of the safest motorists on the road. They understand the dangers they face and take extra precautions. However, bias still exists among insurance companies and juries. A lawyer can help bikers overcome this bias. That gives motorcyclists a better chance of success with their claim.
Misunderstanding of how motorcycles operate – Motorcyclists need a Class M license to operate a motorcycle. A Class M license is different than other driver's licenses. The reason: operating a motorcycle is completely different than driving a car. Juries and insurance companies must be educated on these differences and be shown that the biker was safely operating the bike. For example:

It can be challenging for motorcyclists to come to a quick stop.
Motorcyclists are much more susceptible to road hazards, such as loose gravel or uneven pavement.

Damages – The injuries bikers sustain after a crash are usually worse than the injuries suffered in a standard vehicle. Bikers do not have seat belts, a strong steel frame around them, airbags, or any of the other protection that motorists have. A biker's injuries can make a motorcycle claim more complicated to litigate.
These are just a few of the challenges motorcyclists face after an accident. Our lawyers can help bikers overcome these. That allows bikers to claim the full amount of damages they need.
Why You Need a Lawrenceville Motorcycle Accident Attorney
At Cain Injury Law, our motorcycle accident attorneys can help with your claim. Here's what they'll do for you:
Investigate the crash to determine liability.
Collect evidence to prove your claim.
Reach out to their network of experts who can testify to the facts of your case.
Accurately evaluate your claim.
Communicate with the insurance company on your behalf.
Negotiate with the insurance company to secure the full amount of compensation you deserve.
Represent you at trial, if the case cannot be settled fairly.
Our attorneys will act as your advocate and work in your best interests at all times.
Compensation After a Lawrenceville Motorcycle Crash
Several common types of damages are available to accident victims after a motorcycle crash. These include:
Medical expenses
Lost income
Loss of earning capacity
Pain and suffering
Mental anguish
Reduced quality of life
Loss of companionship
Disfigurement and permanent disability
Our motorcycle accident attorneys will identify the different types of compensation available. We will also work hard to secure the full amount you deserve.
Statute of Limitations on Motorcycle Accident Claims
Although you have the right to file a claim for compensation after a motorcycle accident, you only have a limited amount of time to file. This is due to the statute of limitations which places a time limit on accident claims.
In Georgia, you have only two years from the date of the crash to file a claim. If you wait too long and the statute of limitations expires on your claim, you will likely forfeit your right to collect any damages at all.
What to Do After a Motorcycle Wreck
It is natural to feel confused after a motorcycle wreck. However, the steps you take now are vital to your claim. These are the most important steps to take after an accident:
Collect contact information – You will need to collect information from everyone involved in the crash. Make sure you write down their name, address, phone number, insurance information, driver's license number, and license plate number.
Take pictures – Pictures serve as valuable evidence. Take photos of the vehicles involved, any damage to them, and anything relevant to the accident scene, such as traffic lights or traffic signs.
Call the police – In Georgia, you must report any accident that causes more than $500 in property damage. Calling the police will also result in a police report, which can be useful when speaking to the insurance company.
Talk to witnesses – Eyewitness statements are important because they come from an objective third party. If people saw the crash, write down their names, and contact information.
Call your insurance company – Even if the accident was not your fault, you likely have to tell your insurance company about the crash. Otherwise, you may void your policy.
Call a lawyer – An attorney will work in your best interests and help you secure the full amount of compensation you deserve.
Talk to a Motorcycle Accident Lawyer in Lawrenceville Now
When you have been hurt in a motorcycle crash, do not handle the case on your own. A Lawrenceville motorcycle accident lawyer can ensure your claim is filed properly and present evidence. The goal is to secure the full amount of compensation you deserve.
At Cain Injury Law, we will ensure your rights are upheld. We will help you through the entire process. Call us or contact us online to schedule a free case review with one of our attorneys.