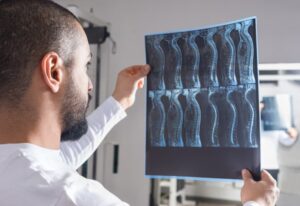 When an accident victim suffers a spinal cord injury, the results can be devastating. A spinal cord injury has the potential to completely alter how a victim lives. Depending on the severity of the injury, a spinal cord injury victim may be facing a lifetime of medical expenses, in-home assistance costs, and rehab, along with being unable to work for a living or enjoy certain activities.
If you have suffered a spinal cord injury because of someone else's negligent or reckless conduct, let a Lawrenceville spinal cord injury lawyer from Cain Injury Law fight to seek justice and financial compensation for you.
At Cain Injury Law, we know that you need compassionate, personal attention from your legal team during this difficult time. We will take the time to get to know you and understand your needs, concerns, and goals. We are prepared to work hard to take the stress of your injury claim off your shoulders and stand by your side throughout your case to help in whatever way we can.
Contact us today for a free initial case review with a Lawrenceville spinal cord injury attorney. We're ready to review how our firm can help you pursue the full financial compensation you need to treat your spinal injury and start living your life again.
How Do Spinal Cord Injuries Occur?
A spinal cord injury can result either from an infection or trauma due to a non-penetrating injury (such as the forces imparted on the body in a car accident) or a penetrating injury (such as a gunshot or stabbing wound).
In a spinal cord injury, the nerves that make up the spinal cord are damaged and can no longer send signals to and from the brain. The areas of the body below where the spinal cord is injured typically suffer from paralysis.
Spinal cord injuries fall into one of two categories:
Incomplete spinal cord injury – Occurs when the spinal cord retains some of its ability to convey messages to and from the brain. Typically, an incomplete injury allows the injured victim to retain some feeling and function below where the injury occurred.
Complete spinal cord injury – Involves a complete compression or severing of the spinal cord, which usually results in total paralysis of the body below the area of the injury.
Most Common Causes of Spinal Cord Injuries in Lawrenceville
Some examples of the most frequent causes of spinal cord injuries include:
Motor vehicle accidents
Falls
Medical malpractice
Sports and recreational accidents
Acts of violence
Workplace accidents
Diving accidents
Levels of Spinal Cord Injuries
Where a spinal cord injury occurs will determine the effects that the injury has on a person's body. Spinal cord injuries can happen to any of the four levels of the spinal cord:
Cervical spinal cord injuries – Injuries to the cervical spinal cord result in partial or total loss of feeling and function throughout the entire body below the neck. Victims will suffer complications with breathing, digestive, and bladder/bowel function. An injury high enough on the cervical spinal cord often proves fatal.
Thoracic spinal cord injuries – Injuries on the thoracic region of the spinal cord usually leave an injury victim with the use of their upper limbs and torso, although they typically suffer the loss of use of their legs, loss of bladder/bowel control, and changes to sexual function and fertility.
Lumbar spinal cord injuries – Lumbar spinal cord injuries primarily affect motor function in the legs. An injury high up in the lumbar region may also impact bowel and bladder function. Depending on the nature of the injury, victims may retain a certain level of mobility.
Sacral spinal cord injuries – Injury to the sacral region of the spinal cord, the lowest level, usually results in some loss of function in the legs. Most injury victims retain the ability to walk, especially with assistive equipment.
Symptoms of a Spinal Cord Injury
Signs and symptoms that you may have suffered a spinal cord injury include:
Severe back pain
Unnatural positioning or twisting of the neck or back
Feeling pressure in the head, neck, or back
Weakness or paralysis in any part of the body
Numbness or tingling
Altered sensation or ability to feel touch, heat, or cold
Difficulty walking or maintaining balance
Loss of coordination or motor function
Muscle spasms or exaggerated reflexes
Loss of bowel or bladder control
Impaired breathing, or difficulty coughing or clearing your lungs
What to Do If You Suffered a Spinal Cord Injury
If you have suffered a spinal cord injury in an accident that someone else caused, you can take steps to help preserve your right to recover compensation from the party or parties responsible for your injury:
Document the scene where your injury occurred to preserve evidence that can later be used to prove who caused the accident and your injuries.
Follow all treatment instructions and recommendations you receive from your doctors.
Keep copies of your medical bills and invoices, receipts for medical or mobility equipment purchases, and your pay stubs or income statements.
Refrain from posting updates on social media while your case is still pending, as the other side could potentially use the information you post to demerit your case.
Speak to a spinal cord injury attorney in Lawrenceville as soon as possible to go over your rights and options and determine the next steps for seeking financial recovery for your injuries.
What Is My Spinal Cord Injury Case Worth?
When you have been the victim of a spinal cord injury, you may be entitled to recover financial compensation for expenses and losses you have incurred and will incur in the future due to your injury, including:
Costs of medical treatments, including surgeries, hospital bills, prescriptions, physical therapy, and equipment purchases
Long-term care, such as home health services or renovations to your residence or workplace to help accommodate your disabilities
Loss of income if you miss time from work
Loss of earning ability if you suffer disabilities that render you unable to work
Physical pain and distress
Emotional trauma and mental anguish
Loss of quality of life due to physical disabilities preventing you from enjoying daily life or activities
The Time Limit for a Spinal Injury Claim in Lawrenceville
If you suffered a spinal cord injury in an accident in Lawrenceville, the statute of limitations under Georgia law gives you only two years from the date of the accident to file a lawsuit. Filing a lawsuit after the two-year deadline means the court will almost certainly permanently dismiss your case. You could lose the right to seek financial recovery from those liable for the harm you have suffered.
Contact Our Spinal Cord Injury Lawyers in Lawrenceville Today
If you have suffered a spinal cord injury in an accident that wasn't your fault, turn to Cain Injury Law for help recovering compensation. Call us or contact us online today for a free, no-obligation consultation with a Lawrenceville spinal cord injury lawyer.