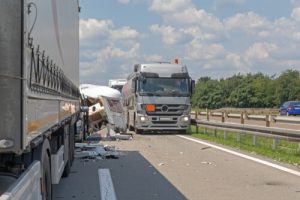 Commercial trucks are important for the people in Lawrenceville. Those trucks and their drivers deliver the goods that people use every day. Without those deliveries, consumers would not be able to purchase the products they rely on.
Unfortunately, when commercial trucks are on Lawrenceville's streets and roads, they interact with other vehicles. Those interactions do not always go well. When trucks get into an accident with smaller vehicles, the occupants of those vehicles often sustain serious injuries.
When those injuries are caused by an at-fault truck driver, accident victims can file a claim for compensation. That money helps those victims with their recovery.
Truck accidents are among the most complex personal injury claims. Do not handle those claims on your own. Accident victims should always speak to a Lawrenceville truck accident lawyer at Cain Injury Law. We are ready to help.
Why Truck Accident Cases Are So Difficult
Crashes involving trucks are not like other vehicle accidents. They can be complicated and confusing. One reason: truck accidents often cause much more severe injuries than other car accidents.
While only one party will likely be liable for a car accident, there may be several liable parties in a truck accident. The parties that can be held accountable include the truck driver, the trucking company, the truck manufacturer, and cargo companies.
Another complicating factor: the trucking company rarely cooperates, refusing to turn over records that can help establish who was liable for the crash. The trucking industry is governed by federal and state laws and regulations. Many people are not aware of these laws. Nor do they know how those laws and regulations can help prove negligence.
How a Lawrenceville Truck Accident Attorney Can Help You
After a truck accident, many victims may think about handling a claim on their own. However, no one should ever do this. Instead, work with Lawrenceville's top legal representation if you've been in a truck accident. Your personal injury lawyer can:
Conduct an investigation to determine what really happened.
Determine who was liable for the crash.
Collect evidence that can serve as proof in a personal injury case.
Keep up-to-date on the ever-changing federal and state laws that regulate the trucking industry.
Explain how those rules and regulations apply to your case.
Identify the scope of your injuries.
Properly evaluate your claim to arrive at the full amount of compensation you're owed.
After a truck accident, a lawyer will act as your advocate and always work in your best interests.
Evidence We Gather in a Truck Accident Claim
The success of a personal injury claim rests on the collection of evidence that backs up the claim. This evidence can include, for example:
Data recorders
In-cab cameras and dash cams
Logbooks
Eyewitness statements
Expert testimony
Medical records
Photos
Evidence such as logbooks is not easy to collect after a truck accident, particularly when that evidence is held by the trucking companies. An attorney will know how to gather this evidence and will use legal tools, such as subpoenas, to obtain it.
Demanding Maximum Compensation After an 18-Wheeler Accident
Accident victims suffer a number of losses, or damages, after an 18-wheeler accident. As a victim, you have the right to claim compensation for those losses. Common types of damages in personal injury claims include:
Medical expenses
Lost income
Loss of earning capacity
Property damage
Pain and suffering
Emotional distress
After fully reviewing the facts of your case, an attorney can determine what specific damages you can claim and give you the best chance at recovering them.
Time Limit for Filing a Truck Accident Lawsuit in Georgia
Like all states, Georgia has a statute of limitations on truck accident cases. This is the time limit that accident victims have to file their claims. The statute of limitations in Georgia is two years from the date of the accident. When accident victims file their claim after the statute of limitations has expired, they may be barred from receiving any compensation at all.
What to Do After a Semi-Truck Accident
The moments after a semi-truck accident are extremely confusing. Accident victims do not know what they should do. These steps are important in your personal injury claim:
Report the accident. In Georgia, you must report any accident that results in over $500 in property damage. Truck accidents typically cause severe property damage so you will have to call the police. A police report can help you with your accident claim.
Do not make any statements at the crash scene. You may be tempted to assign blame at the accident scene, or even to apologize for the crash. However, any statements you make could be used against you in a personal injury case.
Take pictures. If possible, take pictures of the accident scene. Also, take pictures of your injuries and anything else relevant to the crash. These could serve as useful pieces of evidence.
Speak to witnesses. If there were witnesses, get their names and contact information. An attorney may use these statements to help prove your claim.
Do not speak to the insurance company. An insurance company will likely contact you shortly after the accident. Do not speak to them. Your statement could be used in a way that hurts your claim. If you have an attorney, give the insurance company the attorney's contact information.
Remember: once you leave the accident scene, speak to a lawyer as soon as possible to protect your best interests.
Talk to a Truck Accident Lawyer in Lawrenceville Now
Truck accidents in and around Lawrenceville are some of the worst crashes on the road. When they occur, accident victims should contact a Lawrenceville truck accident lawyer.
At Cain Injury Law, we know how to determine who was liable in a truck crash. We know how to hold the liable party, and their insurance company, accountable. Call us or contact us online. We will schedule a free case review and explore how we can help.