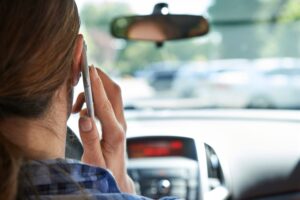 Distractions have been a danger for as long as there have been cars. But recent technological developments have given drivers more distractions than ever. Smartphones, in-vehicle entertainment systems, and GPS devices are just a few of the modern distractions that can cause drivers to take their hands off the wheel and their eyes and focus off the road. And when they do, the results can be severe – even deadly.
If you've been injured in a distracted driving accident in Grayson, Georgia, the team at Cain Injury Law wants to help. Our Grayson distracted driving accident lawyers have been widely recognized for providing exceptional legal representation, with attorney Clayton Cain named a Rising Star by Super Lawyers. We're also known for our commitment to our local communities.
For more information on how we can help with a distracted driving accident claim in Grayson, contact our office today for a free case evaluation and legal advice about your injury case.
What Is Distracted Driving?
Distracted driving is anything that causes a motorist to take their hands off the wheel, their eyes off the road, or their concentration off operating a motor vehicle safely. There are three main types of distractions:
Manual distractions — A manual distraction is anything that takes a motorist's hands off the wheel. Manual distractions include things like snacking, adjusting in-vehicle controls, or operating a smartphone.
Visual distractions — A visual distraction is anything that takes a motorist's eyes away from the roadway. Visual distractions include looking back at passengers, using a navigation device, or looking at maps.
Cognitive distractions — A cognitive distraction is anything that takes a driver's focus and concentration away from the act of driving and being aware of surroundings. Cognitive distractions include things like talking on a cellphone, talking to passengers, or daydreaming.
Some distractions like texting combine all three types of distractions, making it an extremely dangerous practice.
How Our Law Firm Can Help with Your Distracted Driving Crash Case
If you've been injured in an accident caused by a distracted driver, Cain Injury Law can help with your case by:
Identifying the parties who may be responsible for your injuries
Gathering evidence to establish that the person who caused the accident is legally liable for your injuries
Developing a legal strategy around the facts of the case
Handling communication and settlement negotiations with the liable parties' insurance companies
Bringing your case to trial, if it becomes necessary
We offer free initial consultations, which means it won't cost you anything to learn more about how we can help with your unique personal injury case. Schedule your free consultation today to find out more about your options for pursuing financial compensation.
Causes of Distracted Driving Accidents in Grayson, Georgia
The number of potential distractions on the road is virtually limitless. However, some of the most common causes of distracted driving car accidents in Grayson include:
Texting or talking on the phone — Texting takes a driver's hands, eyes, and concentration away from safely operating their vehicle, making using a phone while driving a trifecta of distractions.
Eating or drinking — Eating a snack or drinking a beverage while driving requires the use of at least one hand and takes a motorist's concentration away from the road, both of which significantly increase their chances of causing a distracted driving crash.
Conversing with passengers — Conversing with passengers is natural when multiple people are in the car, but an animated conversation can quickly shade into a dangerous distraction. A driver who devotes too much time and mental energy to talking with passengers — especially if they look back to talk to them — makes a driver much more likely to be involved in a distracted driving accident.
Adjusting the radio or GPS — GPS devices can be handy for navigating unfamiliar roads, but they should not be adjusted by a driver actively operating a vehicle. Doing so can cause that driver to lose focus on the road and take their hands from the wheel. The same is true of adjusting the radio or other entertainment devices.
Pets — Animals can be incredibly distracting in a vehicle, especially when they try to interact with the driver or bump into the vehicle's controls.
Children — Children, especially toddlers and infants, can be quite loud and demanding, which can cause their driver to lose focus.
Grooming — Many people use their work commute to finish grooming, even when they should be paying attention to driving. Applying makeup, brushing hair, shaving, or adjusting clothing present a range of distractions.
Daydreaming — Long drives can be dull, which can cause some drivers to daydream instead of concentrating on driving. If you find yourself daydreaming, it might be time to pull to the side of the road and take a break.
Common Injuries Involved in Distracted Driving Accidents
Distracted driving accidents frequently result in severe injuries, such as:
Broken bones
Burns
Internal bleeding
Internal organ damage
Lacerations
Neck and back injuries
Paralysis
Psychological trauma
Soft-tissue injuries
Spinal cord injuries
Traumatic brain injuries (TBI)
Whiplash
Compensation for a Victim of a Distracted Driving Accident
Distracted driving car accidents can leave victims in pain and facing mounting medical bills and other financial hardships. But with an experienced car accident lawyer, injury victims can potentially obtain compensation for:
Medical expenses
Lost wages
Pain and suffering
Emotional trauma
Reduced future earning capacity
Wrongful death benefits in fatal auto accidents
Property damage
Filing a Car Accident Claim in Grayson
To file a car accident claim in Grayson, you will need to notify the distracted driver's insurance company. You will then need to send them a demand letter, which sets out your demands for restitution. Finally, you will have to file a complaint with the civil court.
Most personal injury claims, including those involving distracted driving, are resolved through insurance settlements rather than trials. To make sure you're eligible to receive compensation for your injuries, you'll need to file your claim within two years of the date of your accident, as specified by the state's statute of limitations. Otherwise, your claim will be denied, and you will lose your opportunity to seek compensation for your losses.
An experienced Grayson car accident attorney can handle all the paperwork and deadlines on your behalf, allowing you to focus on your health rather than on checking off bureaucratic boxes.
Distracted Driving Car Crash Statistics in Grayson
The Georgia Department of Transportation estimates that, between 2016 and 2020, there were 1,004 crashes in Grayson attributed to confirmed or suspected distracted driving, resulting in 417 injuries.
During that same period, confirmed or suspected distracted driving led to nearly 90,000 collisions in Gwinnett County at large. These crashes caused almost 32,000 injuries and resulted in 87 fatalities.
Contact Our Grayson Distracted Driving Accident Attorney
You don't need to face the aftermath of a distracted driving collision alone. An experienced personal injury attorney can help you seek a fair settlement for your serious injuries and related expenses.
Contact the Grayson car accident lawyers at Cain Injury Law today for a free consultation about your options for seeking maximum compensation from the insurance company for the at-fault driver.