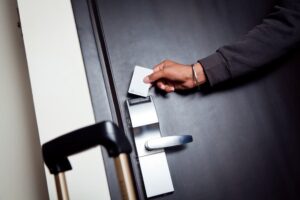 When you are a guest at a hotel, you have a right to expect your stay to be a safe one. If you are injured in an assault, robbery, or another violent act, the individual responsible might not be the only one to blame. If the hotel failed to provide adequate security, the owner, operator, or another responsible party could be held accountable for the harm you've suffered.
At Cain Injury Law, our experienced team of hotel negligent security attorneys wants to help you seek answers and fair compensation if you were the victim of a violent crime at a hotel in Grayson or surrounding areas of Georgia. We care about the safety of residents and visitors to Grayson, and we'll be ready to stand up and fight for you if you've been hurt.
Contact a Grayson negligent security attorney with Cain Injury Law to discuss your situation in detail for free. We stand ready to do everything possible to get you the justice you deserve.
What Is Negligent Security?
Hotels have a responsibility to keep their guests and visitors safe from harm and minimize foreseeable risks. Negligent security refers to a business or property owner being held liable for the criminal conduct of a third party on its premises.
Keeping walkways clear, installing security lights and cameras, maintaining locks, and hiring security guards are a few ways hotels help maintain a secure environment for their guests.
Negligent security measures in a hotel can cause significant injuries to unsuspecting patrons. Failure to maintain security equipment or employing untrained or poorly trained security staff may be considered negligent security when a hotel guest is attacked and injured.
Can I Sue a Hotel for Negligent Security?
In some cases, hotel guests can sue a hotel for having negligent security measures when they set the stage for a significant incident.
Negligent hotel security falls under the umbrella of what are known as premises liability claims. Many premises liability claims are settled by filing a claim with the property owner's insurer. However, premises liability claims can also result in civil court cases against the property owner.
A civil lawsuit is a means of attempting to recover compensation from a negligent party. It is not about determining guilt or innocence or handing out criminal punishment for wrongdoing. A civil premises liability claim for negligent security is a separate matter from any criminal charges that may arise from the incident.
How Do You Prove a Negligent Security Claim?
First, you must demonstrate that the hotel owed the guest a legal duty of care. If you are a paying guest of the hotel, it is reasonable to expect that your safety and security are a priority for the establishment.
The second element of proving a negligent security claim is showing the hotel failed to uphold its legal duty of care to you, the victim. Doing so means establishing that the hotel did not provide adequate security. Additionally, you must show that the negligent security caused an injury and that the damage cost you.
Finally, you will need to prove that having adequate security measures in place at the time of the incident would have prevented the incident. Property owners are not responsible for stopping all crimes on their premises, just crimes that can be prevented with proper security.
It can be challenging to obtain evidence that proves all the points of a negligent security case, which is why you need the help of an experienced and knowledgeable attorney. A Grayson negligent hotel security attorney from Cain Injury Law can review your case and determine the best path for moving forward with your claim.
Examples of Negligent Security at a Hotel in Grayson
Some common examples of negligent security incidents that harm hotel guests include:
Shootings
Criminal assaults
Harassment
Robberies
Sexual assaults
There are countless ways landlords and business owners can help prevent such incidents, such as:
Installing security cameras
Maintaining security equipment
Maintaining or repairing broken door locks
Properly securing entrances and exits
Maintaining fences and alarms 
Hiring and adequately training security guards
Implementing proper check-in and check-out procedures
Displaying signs and adequately warning guests of potential threats and hazards
Installing proper lighting in unsafe areas
Conducting appropriate employee screenings or background checks
Injuries Associated with Negligent Security
Negligent hotel security can result in criminal incidents that may cause severe injuries to unsuspecting hotel guests in Grayson. Shootings, robberies, and sexual assaults are among the leading crimes that can befall hotel guests when adequate security measures aren't implemented.
Some of the most common injuries associated with negligent hotel security include:
Broken bones
Traumatic brain injuries (TBI)
Gunshot wounds
Stab woundsPunctures
Lacerations
Burns
Internal injuries
Sexually transmitted diseases
Scarring
Disfigurement
Emotional distress
These types of life-altering injuries can result in expensive medical bills and high treatment costs.
How to Get Legal Help for an Injury from Negligent Security at a Hotel
You don't have to settle for being a victim if your hotel stays resulted in a violent attack. Negligent hotels can and should be held accountable for injuries and other losses resulting from inadequate security. You should feel safe knowing that when you are away from home, a hotel can offer you safe accommodations. When a hotel fails to take appropriate steps to protect you from harm, you could be owed compensation.
Legal help is only a phone call or click away. Get in touch with the negligent hotel security attorneys at Cain Injury Law for assistance. For a free consultation to discuss your legal options, reach out to our Grayson hotel negligent security lawyers today.