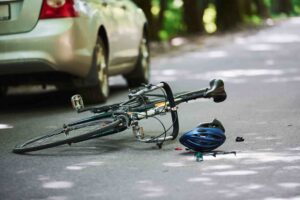 Bicycles are a healthy, eco-friendly, cheap, and convenient form of transportation or recreation and exercise for many people. Although bicyclists have full rights to use the road, some motorists refuse to respect bicyclists or engage in reckless and careless behavior. This type of negligence can lead to an accident or collision that can leave an unprotected bicycle rider with serious, life-altering injuries. 
When a cyclist is injured in an accident caused by someone else's carelessness in Lawrenceville, the rider shouldn't have to bear the financial burdens of recovering from their injuries. An experienced bike accident attorney can help you recover the compensation you need and deserve from those responsible for your accident. 
At Cain Injury Law, we fight for the rights and interests of bicycle accident victims in Lawrenceville and throughout Georgia. Let us do the hard work of securing evidence and negotiating with the insurance companies to seek a financial recovery in your bicycle accident case. You can continue to focus on your physical and emotional recovery from your injuries and on getting back to your normal life.
If you've been injured in a bicycle accident in Lawrenceville that was not your fault, schedule a free initial case evaluation with a bicycle accident attorney at Cain Injury Law today. You can talk to one of our experienced lawyers about your accident and learn more about how our firm can help you pursue the financial compensation that you need and deserve.
Causes of Bicycle Accidents in Lawrenceville
Common causes of bicycle accidents in Lawrenceville include:
Careless or reckless driving

– When drivers are careless or reckless behind the wheel, they can fail to observe bicycle riders near their vehicle, leading to a catastrophic collision.

Distracted driving

– Drivers who are distracted by cell phones, car radios, navigation systems, food, and drink, or other occupants of their vehicles can easily lose track of a bicycle and cause a collision.

Drowsy or fatigued driving

– Fatigued drivers typically have impaired reaction times and judgment, which can set the stage for a bicycle accident.

Driving under the influence

– Like a fatigued driver, a driver under the influence of alcohol or drugs may have impaired reflexes and judgment behind the wheel.

Speeding

– A speeding driver will have less time to react to a bicyclist or another emergency situation on the road.

Unsafe turns and lane changes

– Drivers who make unsafe turns or lane changes, such as by failing to signal and check mirrors and blind spots, can cause a collision with an approaching bicyclist.

Failure to yield the right of way

– Drivers may collide with bicycles when they fail to yield the right of way when turning or at intersections.

Defective bicycles or bike parts

– Bicycle riders can get into an accident when their bicycle or a part on their bicycle is defectively designed or manufactured.

Poor road conditions

– A bicycle rider can get into an accident due to poor road conditions, such as a pothole or broken pavement.
Ways Motor Vehicles Collide with Bikes
Motor vehicles such as cars and trucks can collide with bicyclists in many different ways, such as:
Head-on collisions

– This occurs when the front of a vehicle collides with the front of a bicycle. It can occur when a vehicle turning left fails to yield to an oncoming bicycle, or if a vehicle travels the wrong way, for example.

Rear-end collisions

– This occurs when the front of a vehicle impacts the rear of a bicycle. Rear-enders commonly occur when a vehicle speeds and follows too closely behind a bicycle, and is unable to slow or stop in time.

Side-impact collisions

– These include collisions commonly known as a "T-bone accident" where the front of a vehicle collides into the side of a bicyclist. Side-impact crashes can also include collisions where a vehicle side-swipes a bicycle, such as when a vehicle makes an unsafe turn or lane change into the path of a bicycle.
In addition to collisions between a moving motor vehicle and a bicycle, motor vehicles and bicycles can also get into accidents when the occupant of a vehicle parked on the street opens a car door into the path of an oncoming bicyclist. The bicyclist may be unable to stop or avoid the door in time or may end up in an accident with another vehicle while trying to avoid the open door.
Types of Injuries from Bike Accidents
Examples of injuries that are commonly suffered in bicycle accidents by riders include:
Lacerations
Road rash

, a type of "burn" that occurs when a rider is thrown from a bicycle and impacts and slides across the pavement

Broken bones
Soft tissue injuries

, including sprains or tears of tendons, ligaments, and muscles

Neck and back injuries

, including herniated or ruptured spinal discs

Internal organ damage and internal bleeding
Head injuries

, including eye trauma

Traumatic brain injuries

, including coma or other consciousness disorders

Spinal cord injuries
Amputations
Georgia Bicycle Laws
Georgia has several important laws for bicyclists to follow when riding, including:
Helmets are required for all bicycle riders under the age of 16.

Bicycles are prohibited from riding on sidewalks unless the bicycle rider is under the age of 13.

When riding a bicycle at night, you must have a lit headlight on the front of your bicycle that can be seen from at least 300 feet away, in addition to a red reflector on the back of your bicycle.

When passing another vehicle or bicycle, you must keep at least three feet between yourself and the other vehicle or bicycle.

In a normal lane of traffic, bicycles may not ride more than two bicycles abreast. Riders may ride three or more abreast on designated bike lanes, bike paths, or other roadways specifically designated for bicycles.
Bicycle riders should always keep aware of the laws governing bicycles. Violating these laws when getting into an accident may allow the other motorist or party to claim that you share at least some of the fault for the accident and your injuries.
Georgia Bicycle Accident Statistics
According to the National Highway Traffic Safety Administration, in a single recent year, there were 29 fatalities of pedal cyclists (which includes people on bicycles, unicycles, tricycles, and other non-motorized pedal-driven vehicles). These fatalities represented 1.9 percent of all traffic fatalities in the state that year. This number also represented 2.81 fatalities per million of the population in Georgia.
Can I Get Compensation for My Bicycle Accident?
If the bicycle accident was caused by someone else's negligence, recklessness, or another legal fault, you may be entitled to compensation for the damages you've suffered in the accident, including for:
Past and future medical treatment

, including surgeries and other medical procedures, physical and occupational therapy, prescription medication, mobility equipment, and even costs of long-term care such as home health care or renovations to your home to accommodate disabilities caused by your injuries

Lost wages or income

from the time that you miss from work while recovering from your injuries

Lost earning capacity

, if your injuries cause disabilities that prevent you from being able to go back to work

Lost enjoyment and quality of life

, as may be caused by disabilities or physical disfigurements caused by your injuries

Pain and suffering
Property damage
In rare cases, you may also be entitled to an award of punitive damages where the at-fault party's conduct is found to have been so egregious that it deserves punishment.
UM & UIM Coverage for Cyclists Under Auto Policies
If you or a loved one are injured by a negligent motorist while riding a bicycle, and you or members of your household have your own auto insurance policy, you may be entitled to file a claim for uninsured/underinsured motorist (UM/UIM) coverage in the event the negligent driver either lack insurance or if the insurance coverage cannot pay for all your losses. 
As long as the bicycle accident involving a motor vehicle, your auto insurance coverage could still apply as if your accident occurred while you were driving your vehicle. 
You should have an experienced attorney review your auto insurance policy to confirm whether you might be entitled to UM/UIM coverage or whether an exclusion under your policy would prohibit you from making a UM/UIM claim for a bicycle accident. Your attorney can fight for the maximum compensation you deserve under the terms of the policy. Even though UM/UIM coverage is handled by "your" insurer, their goal is still to pay out as little as they can get away with.
Contact a Bicycle Accident Lawyer in Lawrenceville
If you have been involved in a bicycle accident in Lawrenceville that wasn't your fault, don't wait another day to start pursuing the financial compensation that you need and deserve for your recovery. 
Contact a Lawrenceville bike accident lawyer from Cain Injury Law today to schedule a free, no-obligation initial consultation. We're ready to discuss your legal rights and options and explain more about how our experienced attorneys can help you pursue the outcome you deserve in your bicycle accident case.