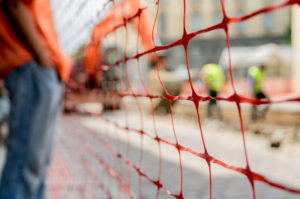 Personal safety is one of the most basic needs we all have, no matter where we are. It's important, then, for businesses and landlords to take certain precautions to keep their properties reasonably secure. When landlords and business owners fail to take proper security measures, people can suffer serious injuries. People can even die due to negligent security in some cases.
If you have been hurt or killed because of negligent security on someone else's property, it's vital that the responsible party be held accountable. The Lawrenceville, Georgia, negligent security lawyers at Cain Injury Law have the experience, knowledge, and resources to help you pursue the compensation you deserve. 
Attorneys Clayton Cain and Sara Wardlow are Georgia natives who've recovered millions of dollars on behalf of our clients. Cain has also been named one of Super Lawyers' "Rising Stars for 2020." We take a down-to-earth, straightforward approach to communicating with our clients, so you are fully aware of what's going on with your case at all times.
If you have questions about your negligent security case and are interested in your legal options after being injured, we would be happy to talk to you. Get your free and confidential initial consultation today by calling us or visiting our contact page.
What Is Negligent Security?
Negligent security falls under the premises liability umbrella of personal injury cases. Premises liability claims involve instances where the owner, occupier, or manager of a property is responsible for the injuries someone sustains on a property under their control. A premises liability claim may be based on someone's actions or their failure to act. In either case, the property owner or manager can be held liable for any damages resulting from injuries sustained by tenants, guests, or other visitors.
Georgia has a few laws in place that outline the duties of property managers and owners to others on their land. Section 51-3-1 of the Georgia Code states that property owners are required to "exercise ordinary care in keeping the premises and approaches safe."
However, the level of care and liability for property owners does depend on certain factors. Invited guests, customers, and tenants are collectively referred to as "invitees" under Georgia law. Invitees are entitled to a higher level of care and can hold a property owner liable for most negligent security injuries. On the other hand, licensees (people on someone's property lawfully without being directly invited) and trespassers can only hold a property owner liable for "willful and wanton" injuries.
The final key factor in Georgia negligent security cases is whether the incident that led to your injury was foreseeable. Negligent security claims are generally based on the idea that the property owner knew or reasonably should have known that someone could have been harmed without proper security precautions. 
For example, if a store is located in a high-crime area, the property owner should take steps to make the store more secure. In a similar vein, it's also important to show how stronger security measures could have prevented the injury. If you cannot demonstrate these elements in your case, you may have difficulty recovering compensation for your injuries.
Where Might Negligent Security Be Found?
Negligent security scenarios, and injuries which may arise from them, can occur in anyplace, at any time. Property owners, as such, have an obligation to reasonably protect lawful patrons from the risk of a violent crime. Places that such claims are often made include (but are not limited to):
Parking lots and/or garages

Bars and/or nightclubs

Shopping plazas

Service stations

Apartment complexes

Office buildings
Due to premises liability laws, property owners may be held responsible should it be proven that their failure to uphold proper security measures contributed to the injury sustained on site. The professional team at Cain Injury Law will investigate to identify all potentially liable parties due to inadequate security if you've been injured on a specific premises.
Common Types of Negligent Security in Lawrenceville
There are many examples of inaction by property owners, occupiers, or managers that could be classified as negligent security. Some of the most common types of negligent security include:
Broken locks on windows and doors

– If doors and windows aren't properly secured, tenants and customers are vulnerable to attack from criminals, especially at night.

Poorly maintained doors and security barriers

– Even if there are new locks on a door or other barrier, there may be other weak points if the property owner does not regularly maintain it. This can leave people vulnerable to trespassers.

Lack of proper lighting

– Darkness makes it much easier for criminals to cause someone harm, so it's important for property owners to make sure their buildings are properly lit at night. This includes both the areas inside any buildings and the exterior environment around them. Proper lighting is especially important in parking lots, garages, and other areas where people may be alone and vulnerable.

Inadequate or broken security systems

– It's important that any security system used to protect a property offers adequate coverage of all entrances and exits, as well as views of common areas that might be the site of an attack. Furthermore, security cameras, alarms, and other devices need to be properly maintained and repaired if they suffer any damage. If property owners and landlords do not take these steps, they leave visitors and guests open to attack.

Inadequate training for security personnel

– Landlords and property owners may station security guards on or around their property, but these guards won't be very effective without proper training. Security monitors need to be watched at all times for any sign of danger, and guards should also make regular patrols of the property as an additional deterrent. Too often, however, security guards don't take their duties seriously and are ineffective safeguards.

Lack of proper background checks

– Another important factor that concerns security guards is background checks. If these men and women are supposed to protect property, they should have clean criminal records. Security guards with questionable backgrounds may take advantage of their power to harm people on a property. Maintenance workers and others who have access to a property should also undergo thorough background screenings.

Failing to warn about potential dangers

– If a property is located in an area known for violent crimes, anyone who enters that property has a right to know about that potential danger. A property that's been previously targeted for a robbery or other crime is likely to be targeted again for another crime. It's up to property owners to post signs warning potential visitors of the danger they may face as a precaution.
Types of Injuries Caused by Negligent Security
While Lawrenceville and Gwinnett County are generally safe for residents and visitors, crime is an unfortunate reality in these areas. According to the county's Annual Police Report, there were 30 murders, 584 robberies, 893 aggravated assaults, 74 cases of aggravated battery, and 172 rapes reported throughout the county in a single recent year. Many of these crimes are the result of negligent security, as criminals are likely to strike where they believe they have a low chance of being caught. 
While some people die as a result of crimes, many of them likely suffer serious injuries, including things like:
Bruises and lacerations
Broken bones
Soft-tissue injuries (damage to internal organs, tendons, and ligaments, etc.)
Concussions and other traumatic brain injuries
Scarring
Amputation and other physical impairments
Mental health disorders (post-traumatic stress disorder, depression, anxiety, insomnia, etc.)
Can I Get Compensation for an Injury Caused by Negligent Security?
When property owners fail to uphold their duty to their tenants, customers, and other visitors, they can be held liable for injuries caused by their negligence. Georgia law allows the victims of negligent security to seek compensation from property owners, landlords, occupiers, and other responsible parties, through a claim against the liable party's insurance company or a lawsuit in civil court, if necessary.
These claims are based on the legal doctrine of negligence. There are four components to proving a negligence claim:
The property owner had a legal duty to protect the victim.
The property owner breached that duty (meaning they did not live up to their legal responsibilities).
The property owner's breach of duty caused the injuries sustained by the victim.
The injury or injuries caused measurable damages to the victim.
If you prevail in your claim or lawsuit, you may be entitled to pursue compensation for the damages you suffered. Potential damages in a negligent security case could include:
Past and future medical bills
The value of any lost wages as a result of your injuries
Physical pain and suffering you've endured because of your injuries
Mental anguish you've suffered due to your injuries
Punitive damages to deter others from committing similar forms of negligence
The dollar amount of any damages you could recover will depend on the extent of your injuries, the amount of insurance coverage available, and other factors. A negligent security attorney can provide more information on what compensation you could receive from filing an insurance claim or lawsuit. It's important that you act quickly if you decide to pursue legal action, as you only have two years from the date of your injury to file a lawsuit under Georgia's statute of limitations.
Contact a Lawrenceville Negligent Security Attorney
If you've been injured due to negligent security, you should not have to suffer because of someone else's neglect. Our experienced team of security negligence attorneys at Cain Injury Law wants to help you pursue the compensation you deserve after being injured.
We work on a contingency fee basis for personal injury cases. You won't owe us any fees unless and until we collect compensation on your behalf. Get your free initial case review today by calling us or visiting our contact page.