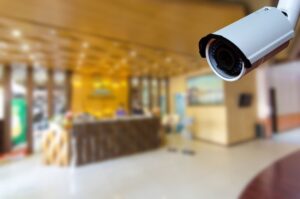 In Georgia, every residential and commercial property owner must ensure that their property is safe for visitors and guests. That includes hotel owners and managers. Inadequate security is, unfortunately, a common type of property owner negligence. When a hotel operator fails to provide adequate lighting, staff, and supervision, guests and others could be injured in accidents, assaulted, or even killed.
If you were injured because a Lawrenceville hotel operator failed to take reasonable steps to ensure that their property was safe and secure, you could pursue a premises liability claim against them. 
Contact the hotel negligent security lawyers at Cain Injury Law in Lawrenceville, Georgia, to discuss your situation and learn more about your legal options. 
What Is Negligent Security? 
Negligent security means that a property owner, such as a hotel or motel operator, had an obligation to provide adequate protection for guests but failed to uphold that obligation. 
Reasonable security measures at a hotel might include:
Hiring a qualified security staff

Utilizing surveillance cameras in public areas

Regularly monitoring security cameras

Distributing one-use room access cards to guests

Posting safety instructions in hotel rooms

Ensuring every hotel door has working locks

Using a loudspeaker system to alert guests to potential dangers

Requiring key cards to access the hotel building and other public areas on the property, as well as gate codes to access outdoor areas such as a pool

Installing emergency buttons in parking areas
If a hotel owner fails to take reasonable security measures, hotel guests on the premises could fall victim to criminal activity. 
Why Should I Contact a Negligent Security Lawyer in Lawrenceville, GA?
If you were injured due to negligent security at a hotel, you could pursue compensation from the hotel through a premises liability claim. If the insurance company refuses to accept liability, you will need someone with extensive legal knowledge and a tenacious disposition to fight for your interests. 
The experienced lawyers at Cain Injury Law have the resources necessary to pursue justice on your behalf while you focus on your recovery. We can help you by:
Quickly collecting and preserving evidence

to prove the hotel's liability for the accident

Documenting your financial and non-financial losses
Handling communications and negotiations

with the other side

Filing a lawsuit and taking your case to trial

if the other side refuses to offer a fair settlement
By hiring an attorney to represent you, you will reap the benefits of their legal knowledge and significantly boost your chances of obtaining fair financial compensation. 
Can I Sue a Hotel for Negligent Security?
The hotel is responsible for ensuring the property is reasonably safe. If you fall victim to criminal activity because the property owner failed to take adequate precautions, you might be able to hold the hotel liable through a premises liability claim. 
Every premises liability case grounded on negligent hotel security is unique. Different hotels require different levels of security. Hotels in areas with higher crime rates will be expected to install additional security for guests' protection. In contrast, hotels in areas with low crime rates might not need to provide the same level of security. 
To determine whether a hotel provided adequate security, your attorney will need to examine the hotel's location and discern whether criminal activity on the premises was reasonably foreseeable. 
The Elements of Negligent Security 
To bring a successful claim or lawsuit, you will need to demonstrate that the hotelier neglected to provide adequate security to guests. There are four primary elements to negligent hotel security: 
The hotel (defendant) owed you (plaintiff) a legal duty of care.

Invitees, or people who are invited onto a property in Georgia, are owed the highest duty of care. Guests at a hotel are considered invitees. As a guest, the hotel operator was obligated to take reasonable steps to prevent you from being harmed by criminal activity on the premises. 

The defendant's hotel failed in its legal duty toward you.

If a hotelier failed to provide reasonable security measures, such as failing to install security cameras or neglecting to fix hotel room locks, that could be considered a breach of their duty. 

The hotel's negligent security caused you to become injured.

You will need to show that because the hotel operator was negligent, you suffered harm. For example, if an intruder assaulted you because the hotel didn't repair a broken lock on your hotel room door, that could demonstrate how the hotel's negligence led directly to your injuries.

Sufficient security would have prevented the crime.

The hotel would be responsible only if sufficient security measures would have prevented the crime. You will need to prove that the crime would not have happened if the hotel had not been negligent.
Examples of Negligent Security at a Hotel in Lawrenceville, GA
Some common examples of inadequate security at a hotel include: 
Lack of security cameras
Failure to monitor or maintain surveillance cameras
Failure to repair broken lighting

inside the hotel, in outdoor areas, and in the parking lot

Failure to install working locks

on hotel room doors or promptly fix broken locks

Failure to warn guests of potential threats
Failure to hire security personnel

or update security after criminal activity occurs on the premises
Some of the most common types of crimes that occur on hotel properties due to negligent security include:
Assault
Sexual assault
Rape
Gun violence
Robbery
Injuries Associated with Negligent Security 
Some of the most common injuries caused by negligent security include: 
Fractures
Head trauma and brain damage
Gunshot wounds
Stab wounds
Punctures and lacerations
Internal injuries
Sexually transmitted diseases
Scarring and disfigurement
Call 911 and report the crime to the police. You should seek medical attention as soon as possible after the incident. Be sure to report criminal activity to the hotel manager. If they create an incident report, you should request a copy. 
Consult with a Georgia inadequate security attorney right away to get started on your claim.
How to Get Legal Help for an Injury from Negligent Security at a Hotel in Lawrenceville, GA
Contact the Lawrenceville hotel negligent security lawyers at Cain Injury Law today for a free and confidential consultation. Our lawyers are ready to discuss your case, explain your rights, and help you seek the justice you deserve.