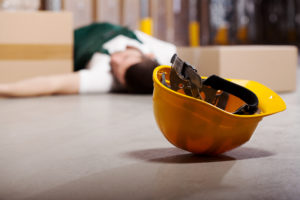 If you've been hurt or have become ill on the job, know that you likely are entitled to benefits to help you get treatment and recoup a portion of your lost wages while you recover. Georgia offers a statewide workers' compensation program to provide vital benefits to employees who've been hurt at work, regardless of fault. 
If you are an eligible employee under state law, you are entitled to receive workers' compensation benefits for qualifying workplace injuries and occupational illnesses, even if you were partially or fully responsible for the incident that resulted in your injury.
However, it's not always easy to recover the benefits you need in a workers' compensation claim. The benefits process can be tricky to understand if your claim is denied, underpaid, or any complications arise. It's a good idea to consult with a knowledgeable Lawrenceville workers' comp lawyer as soon as you believe you have grounds for a claim. 
The dedicated team at Cain Injury Law can help. We offer free consultations as well as 24/7 access to our compassionate team. Call or text us today to start taking action in your workers' compensation claim.
Common Types of Workplace Accidents in Lawrenceville
While certain workplaces, such as construction sites or healthcare facilities, may pose a greater risk of accidental injury to workers, workplace accidents can occur in almost any environment. Even office workers who primarily sit and type during the workday can be injured on the job by repetitive motion strain, heavy lifting, or even airborne illnesses. 
Although no two workplace incidents look alike, the following are some of the most common types of accidents that lead to on-the-job injuries:
Car and truck crashes

, which are an especially big risk to commercial drivers and people in the construction, agriculture, and mining industries

Slip and fall accidents

, which can happen in any environment with slick, wet, or icy floors, or workplaces with unsafe ladders, stairs, or platforms

Electrocution or entanglement in workplace machinery

, such as trash compactors, balers, or forklifts

Overexertion

, an especially common job-related injury that can occur while lifting, pulling, pushing, carrying, or throwing

Falling, flying, rolling, or swinging object accidents

, which frequently cause head injuries, cuts, bruises, and bone fractures

Repetitive motion strains

, which occur over time as a result of cumulative trauma from things like using a computer or working an assembly line

Workplace violence

, which can happen among employees or in any workplace open to the general public
Am I Eligible for Workers' Compensation Benefits?
If you were involved in any of the common workplace accidents mentioned above or hurt on the job some other way, your next question is probably about your eligibility to claim benefits for any related injuries. Generally speaking, if you are an injured worker who meets the three following criteria, you are entitled to claim workers' comp benefits:
You work part-time or full-time for an employer who is required to carry workers' comp insurance.

You are legally considered an employee of the corporation carrying that workers' comp insurance.

The cause of your injuries was directly related to the work you perform.
Under Georgia law, all employers that regularly employ three or more full-time or part-time workers must carry workers' compensation insurance coverage to protect their employees. However, there are exceptions for U.S. government agencies and certain employers in the railroad, agriculture, and domestic service industries.
Unlike some other work-related benefits, employees do not have to work a minimum number of hours or days for a particular employer before they are entitled to workers' comp benefits. If you are an eligible employee, you are covered the first day you start on the job. 
In most cases, Georgia workers' compensation laws protect employers from being sued by employees for work-related injuries. In return, injured employees may collect benefits regardless of fault, even if an employee was responsible for their own injury. However, if your injuries were the result of any intentional acts of harm by your employer, you may still have the ability to file a lawsuit to secure the compensation you need to recover. 
If you were injured due to the negligence of a third party – such as the manufacturer of defective equipment you used on the job or another driver in a work-related car crash – you may have grounds to sue that party. An experienced workers' comp attorney can help you make these distinctions and decide which course of action is best for you.  
How Can I File for Workers' Compensation?
When you file a workers' compensation claim, it's important to understand the steps you must take, how long you have to file, and what you can expect afterward. When you are involved in a workplace accident in Lawrenceville, or as soon as you become aware of your job-related illness or injury:
Report your injury or illness

to your employer within 30 days of the incident or the first date that you became aware of your condition.

Visit an approved medical provider for treatment

if you need medical attention for your workplace injury. Your employer is required to post or provide a list of at least six in-network options or the name of a provider you may consult.

Make sure your employer promptly contacts their workers' compensation insurance provider

about the incident.

Obtain and fill out a copy of the WC-14 form

from Georgia's

State Board of Workers' Compensation

(SBWC).

Send completed copies of your WC-14

to your employer and their workers' comp insurance carrier.
In some cases, employers may not want to do their part to help you file your workers' comp claim because they are afraid their insurance premiums will go up. If you suspect you are not getting the information you need from your employer, contact the SBWC's Claims Assistance Department, or consult a qualified workers' comp lawyer.
Many employees receive their workers' compensation benefits as a lump sum. If your workplace injury forces you to miss work for more than seven days, you may be entitled to receive structured benefit payments every week, month, or year. Benefits are generally capped at two-thirds of your average weekly wages with an overall maximum of $675 per week.  
What Do I Do If My Workers' Comp Claim Is Denied?
Sometimes, employers or their insurance providers may deny workers' compensation claims. They may attempt to claim that workers are not legally considered employees, that their injuries are not work-related, or that injuries did not occur on-the-job. If your workers' comp claim is wrongfully denied, you may need to file an appeal.
Any time a workers' compensation claim is denied, the employer or insurance carrier that denies the claim must provide a specific reason for the denial and information about the next steps you can take to pursue your claim. If you are not satisfied with the outcome of your claim, you will usually have one year from the date of your injury to begin the appeals process.
The first stage of appeals in workers' compensation cases typically involves a hearing with an administrative law judge (ALJ). If your claim is denied for a second time by the ALJ, you have the right to appeal the order within 20 days of their decision. These secondary stages of appeals involve appearing before a superior court judge, a state court of appeals, or even the Georgia Supreme Court in rare situations.
If you need to appeal your workers' comp claim one or more times following a denial of coverage by your employer or their insurance carrier, it's a good idea to retain the services of a skilled Lawrenceville workers' comp lawyer. The workers' comp appeals process involves plenty of strict requirements and tight deadlines, all of which can be difficult to navigate without the significant experience your lawyer can provide.
Contact a Lawrenceville Workers' Compensation Lawyer Today
At Cain Injury Law, our workers' compensation attorneys are here to help you overcome the many challenges you're facing as a result of a workplace injury or illness. We are committed to treating each and every one of our clients like family, with prompt communication and an open-door policy so you know how much your needs matter to us. We even provide a free case status app that gives you confidential, real-time access to updates and progress for your case, so you can stay in the loop wherever you go.
In addition to offering free consultations, our team works on a contingency-fee-basis. That means we never collect any legal fees unless we help you win compensation. We truly care about the people in our community and are eager to help in any way we can, regardless of clients' ability to pay. 
To get started with a free consultation for your Lawrenceville workers' comp case, call or text us or contact us online now.