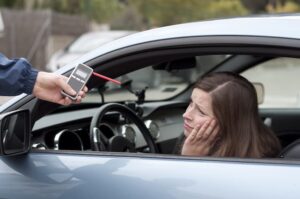 If you were injured in a drunk driving accident in Lawrenceville, you may be entitled to recover substantial compensation for medical expenses, lost income, and other losses due to the accident. Drunk driving crashes can cause life-altering injuries, physical pain, and emotional trauma. You should not be responsible for costs resulting from another driver's recklessness. 
The Lawrenceville drunk driving crash attorneys at Cain Injury Law have the in-depth knowledge and experience necessary to help you hold the at-fault driver accountable for their misconduct. You don't have to navigate a complex drunk driving case on your own. We'll guide you through every step of the legal process and work tirelessly to pursue the positive outcome you deserve. 
Contact us today to discuss your case and evaluate your legal options during a free claim review. 
How Can a Lawrenceville Drunk Driving Accident Lawyer Help Me?
Being involved in a drunk driving accident can be a traumatic experience, particularly if you suffer serious injuries. Trying to navigate the insurance claims process while recovering from your injuries can feel overwhelming. That's why it's critical to consult with a drunk driving accident lawyer who can handle every aspect of your case for you while you focus on your treatment. 
A drunk driving accident attorney can help your case in myriad ways. The attorneys at Cain Injury Law have the resources to:
Conduct a thorough investigation

into the accident that caused your injuries.

Gather and analyze evidence

to support your case and prove liability.

Identify the liable party

involved in the crash.

Document and estimate losses

you incurred.

Negotiate a fair settlement

with the at-fault driver's insurance company.

Pursue a personal injury lawsuit

on your behalf if settlement talks are unproductive or if the insurance company refuses to offer a reasonable settlement.
An experienced attorney can build the best possible case on your behalf to help you seek the maximum compensation available in your case and justice for the pain and other losses you've endured. 
Who Can Be Held Liable for a Drunk Driver Crash?
If a drunk driver causes a crash, they can be held responsible for any injuries and losses victims suffer as a result. 
Alcohol can impair a driver's judgment, ability to focus, and reaction time, which is why driving while intoxicated is illegal in Georgia and across the country. When a driver's negligent behavior harms others, they can be held financially liable for the consequences.
Other parties could also be liable in drunk driving accidents. For example, in Georgia, the owner or staff members of a restaurant or bar that overserved the drunk driver could also be liable. Typically, these individuals can be held responsible only if they knowingly served alcohol to a minor or clearly intoxicated person who would soon be driving.  
A full investigation will be needed to determine liability. Our Lawrenceville drunk driving accident lawyers can help you identify all potential sources of compensation.  
Compensation After an Accident Caused by an Impaired Driver
If a drunk driver injured you, you could be eligible to recover compensation. Compensation is designed to help you cover losses related to the accident.
Depending on the circumstances of the accident, you might be able to seek compensation for: 
Present and future medical expenses

related to your injuries, including hospital bills, physical therapy expenses, surgery costs, prescription medications, and more

Lost wages

if you cannot work while being treated for your injuries

Lost earning potential

if you cannot perform the full extent of your regular job duties due to being temporarily or permanently disabled

Pain and suffering

, including physical pain, emotional anguish, mental distress, post-traumatic stress disorder (PTSD), and loss of enjoyment of life

Property damage

, such as vehicle repairs or replacement

Punitive damages

in some cases
An experienced car accident attorney can help you calculate your financial losses and quantify your non-financial losses, such as your pain and suffering. 
Common Injuries Caused by Drunk Driving Wrecks in Lawrenceville
Drunk driving accidents commonly result in severe and even fatal injuries. Some of the most common injuries caused by drunk driving crashes in Lawrenceville include: 
Back injuries
Organ damage and internal bleeding
Limb and joint injuries
Soft tissue injuries
Burns
Broken bones
If you sustained any injuries in a drunk driving accident, the at-fault driver should be responsible for covering your present and future medical expenses. 
Drunk Driving Settlements and Trials
Most drunk driving crash victims will settle out of court. When you first communicate with the at-fault driver's insurance company, they may use various tactics to try and reduce or deny your claim. One common tactic they use, especially if they believe you have a strong case, is to offer a lowball settlement that seems generous at first, but in reality, is far less than you deserve. 
Your attorney can negotiate with the insurance company on your behalf. A skilled attorney will know how to respond to the insurer's tactics and fight for a fair amount. However, sometimes settlement talks fall through, or the insurance company simply refuses to offer the amount you need. In that case, your attorney may advise you to file a personal injury lawsuit and take your case to trial. 
Before a civil trial, you will have multiple opportunities to settle with the at-fault driver's insurance company, including during a process called mediation. If no settlement can be reached, your case will proceed to trial. Both sides will present evidence at a trial, and the court will render a verdict. The court will decide whether to award you compensation and how much you should get. 
Consulting with an attorney throughout the claims and court processes is critical. Not only can an attorney provide you with legal advice, but they will also defend your interests and act as your advocate. 
How Long Do You Have to File an Accident Claim?
In Georgia, you have two years from the date of the accident to file a personal injury lawsuit against the driver who caused the crash. If you don't initiate legal action in civil court within this timeframe, the court will likely dismiss your case. 
It can take time to build a case for full and fair compensation, so the sooner you contact an attorney, the less risk you'll have of running up against the statute of limitations deadline.
Contact Our Experienced Drunk Driving Accident Attorneys Today
Were you injured in an accident caused by a drunk driver? If so, don't hesitate to reach out to the Georgia car accident attorneys at CCain Injury Law to discuss your case. We are ready to review your legal options and advise you about your next steps. If you choose to hire us, we will work tirelessly to help you pursue the compensation you deserve. 
Contact our office today to speak with a dedicated Lawrenceville drunk driving accident attorney. We offer a free, no-risk case review to all prospective clients.